The Porsche 718 Boxter just made its US debut in New York after making its world debut at the 2016 Geneva Motor Show earlier this month. The new Boxter is once again subject to a downsize but has an increased performance output.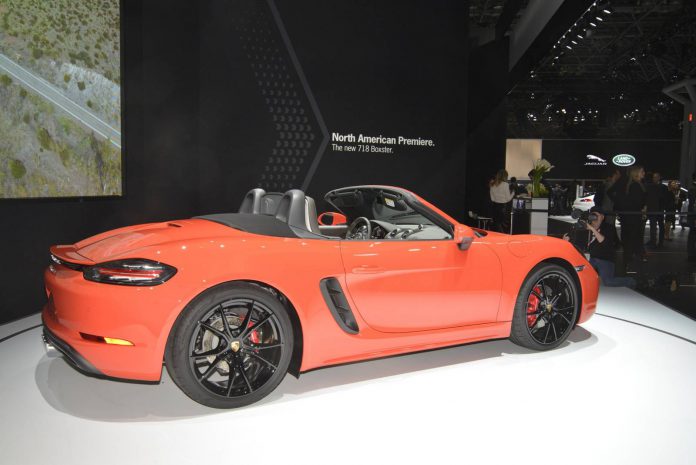 Under the hood we find a turbocharged 2.0-liter flat four boxer engine producing 300 hp (220 kW) and 380 Nm of torque. The more potent Boxter S packs a 2.5-liter engine outputting 350 hp (257 kW) and 420 Nm of torque. The new performance figures show a 35 hp increase compared to its predecessor and on top of that save an additional 13% of fuel.
The 718 Boxter comes with a six-speed manual as standard whilst the PDK double-clutch automatic transmission remains optional. A sprint to the 100 km/h mark takes just 4.7 seconds, that's an increase of 0.8 seconds compared to the outgoing model and the Boxter's top speed is 275 km/h. The performance of the Boxter S is almost equal if it weren't for the extra 10 km/h that raises its top speed to 285 km/h. The previously mentioned figures are based on selection of the optional "Sport Chromo Package".
Along with the new engine, Porsche have fitted the Boxter with an upgraded suspension setup and uprated brakes. The electro-mechanical power steering system is said to make the new Boxter 10% more direct and the vehicle features a lower ride height by 10 millimeters. If you were to opt for the Sport Chromo Package, Porsche equips your Boxter with three suspension and driving settings comprising of normal, sport and sport plus. The additional sport response button is a nice touch too, exposing the Porsche 718 Boxter to a 20 second boost.
A few changes on the interior side of things include a remodeled dash-panel with optional touch screen. For more detailed information on the new Porsche 718 Boxter, please take a look at our earlier article. Stay tuned for more car news from the 2016 New York International Auto Show!