Nico Rosberg has won the 2016 Formula 1 Australian Grand Prix in style, leading teammate Lewis Hamilton to seal a 1-2 fate for Mercedes-AMG F1. This is the fourth straight win for Rosberg who began a streak of wins back in Mexico last year.
Sebastian Vettel claimed P3 after a ferocious battle with Hamilton that ended after the Ferrari driver ran wide with only two laps left in the race. Fourth place went to local hero, Daniel Ricciardo from Red Bull while Felipe Massa claimed fifth for Williams.
The race saw one red flag session after Alonso collided heavily with the Haas of Gutierrez. Both drivers walked away unhurt, that incident formed the turning point for the race which had been dominated by Ferrari from the start.
Australian Grand Prix 2016 Results
P1 Nico Rosberg – Mercedes
P2 Lewis Hamilton – Mercedes
P3 Seb Vettel – Ferrari
P4 Daniel Ricciardo – Red Bull
P5 Felipe Massa – Williams
P6 Romain Grosjean – Haas
P7 Nico Hulkenberg – Force India
P8 Valtteri Bottas – Williams
P9 Carlos Sainz – Toro Rosso
P10 Max Verstappen – Toro Rosso
Full Report
After a new qualifying strategy that sparked a heavy debate yesterday, today's race at Albert Park in Melbourne was all about turning things around. For some like Max Verstappen, the new format worked out like a charm allowing the youngster to start from a career best in fifth – just behind Mercedes and Ferrari. Nonetheless, F1 heads unanimously agreed to revert to the old qualifying format effective from Bahrain onwards.
The top eight drivers started on their supersoft tires from Q2 as per the rules while Force India – who started from ninth and tenth – were allowed to choose from a set of three, they went for soft.
The formation lap got underway but Daniil Kvyat's Red Bull came to a halt, calling for a new formation lap.
Aborted first start, so one more formation lap, then we're racing… #AusGP #WeAreRacing pic.twitter.com/IJdqdP45Kl

— WILLIAMS RACING (@WilliamsRacing) March 20, 2016
The second start was quite messy, Sebastian Vettel managed to jump into the lead as Kimi Raikkonen slotted into P2. Hamilton was pushed down into sixth while Rosberg was left lying in third ahead of a vigilant Verstappen. Meanwhile, Massa settled for fifth ahead of Hamilton, Sainz, Hulkenberg, Ricciardo and Alonso to complete the top ten.
LAP 1/57: Incredible start for Ferrari as Vettel takes P1 and Raikkonen claims P2 #AusGP pic.twitter.com/Za4MNDOMjf

— Formula 1 (@F1) March 20, 2016
In an attempt to reclaim the lead, Hamilton managed to take out Massa on Turn 4 for P5 and was now chasing Verstappen down the line. Replay later revealed how the two Mercedes lost the lead after Vettel forced his way in between them, the two Silver Arrows made a little contact in that mix up.
"I can't get past this guy (Verstappen)," said Hamilton over the radio, the Brit was falling away from the lead 11 laps into the race. The first round of pit stops was in play including Rosberg who pitted just as he was about to make a move on Raikkonen. The German rejoined in fifth up in front of Hulkenberg.
"I can't be stuck behind this guy we've got to do something on strategy," said a weary Hamilton who was now in P2 behind Raikkonen after Vettel made his first stop. The order had changed to Raikkonen-Hamilton, Vettel-Sebastian after 15 laps. Raikkonen and Hamilton were yet to make a stop, with the Brit staying in longer as per the team's strategy which was brought about by the Verstappen issue.
Vettel was the quickest man on the field still running on supersoft and opening a gap between him and Rosberg, and while all that was happening, the Ferrari managed to take out Hamilton heading straight into the lead. Hamilton and Raikkonen made their stops where the Silver Arrow bolted on medium rubber while the Ferrari stayed on supersoft.
Suddenly, on lap 17 the yellow flags came out followed by the safety car after Alonso's McLaren collided heavily with Gutierrez's Haas. Replay showed Alonso hitting the back of the Haas before he veered into the wall turning his car upside down. The huge crash brought the race into a stop under red flags. Both Alonso and Gutierrez managed to walk away from the crash unhurt. Vettel then led the cars to the pit lanes where drivers were allowed to get out before restart.
RED FLAG: Crash at turn 3, Alonso clipping Gutierrez, with the McLaren flipping & hitting the barrier #AusGP pic.twitter.com/N9WsKOqEDm

— Formula 1 (@F1) March 20, 2016
With the red flags in play, teams are allowed to change tires meaning the earlier strategy was no longer effective.
"Massive accident so lucky to walk away just amazing the safety on F1 now congratulations all engineers and car builders so pleased Alonso ok. A reminder to all how it can go wrong so quickly and now Ferraris advantage lost.Perfect call to stop race clean track regroup." – Tweeted Nigel Mansell.
Indeed that was a huge crash, and it shows how safety has improved in the sport. Alonso's car was completely torn away as shown in the image below.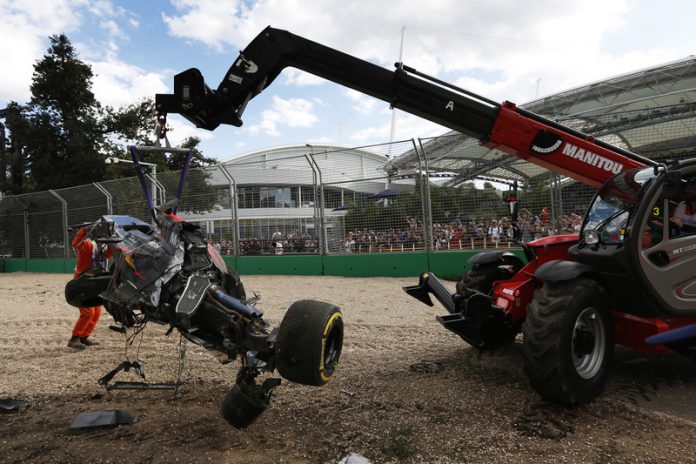 Haryanto did not make it to the restart as his car was still in the garage, the rest of the cars followed the safety car back into the field as the race resumed. Alonso and Gutierrez were booked for further medical checkups as per the regulations even though they were deemed to be fine by their respective teams.
Vettel led the field after restart on lap 20 leading Rosberg with both drivers yanking away from Raikkonen. Ricciardo was fourth ahead of Verstappen, Sainz, Hamilton and Massa. Four drivers were already out of the race including Kvyat, Alonso, Gutierrez and Haryanto. Vettel then set a new fastest lap and extended the gap over Rosberg to 1.5 seconds, the Silver Arrow was on medium rubber and perhaps hoping to go till the end.
2016 Formula 1 Australian GP
Raikkonen's Ferrari began to smoke on lap 23 and the Finn was forced to head back into the pits, the race was over for him bringing the number of retirements to five. Hamilton was on medium rubber too, hoping to run longer than the three cars ahead of him but this strategy was getting disparaged by the traffic build up, allowing Vettel and Rosberg to get further away.
Sauber's Ericsson was handed a drive-through penalty brought about by his team for working on the car too close to the restart, 15 seconds before the start. After picking up his penalty, the Sauber man dropped to last behind Nasr and Wehrlein.
"How many times have I said I had problems with the tyres? I wanted to pit first!" yelled Verstappen after his team cost him time with a slow stop. Sainz also pitted before him. Then Vettel finally pitted from the lead, picking up a set of soft tires, Rosberg claimed the lead while Ricciardo and Hamilton assumed P2 and P3 respectively.
Drama over the radio of the Toro Rosso cars kept the race even more alive; "Come on, we have to do something!" shouted Verstappen over the radio, as he urged Sainz to push harder. Sainz response was, "I am pushing, I am pushing, don't tell me to push!"
At the front, Hamilton had managed to pass Ricciardo forcing the Australian man to pit. The lead was now held by Rosberg in P1, Hamilton in P2 and Vettel in P3. Both Silver Arrows were on medium rubber, Ferrari on softs while Ricciardo emerged with a set of quicker supersoft tires.
Ricciardo managed to breeze past Massa into fourth before setting a new fastest time of the race on 1m29.420s. The local fans cheered as the Aussie hero began to play catch up with the Ferrari of Vettel. Speaking of Vettel, he was 15 seconds adrift the leading Mercedes of Rosberg and 4 seconds behind Hamilton. Mercedes already proved how good the medium tires can be especially during long runs – as evidenced during testing in Barcelona.
In the final laps the main action was between Hamilton and Vettel where both drivers were only separated by a mere second. Vettel was clearly faster than both Mercedes, but they were not letting go easily. Suddenly, Vettel ran wide into the grass with two laps remaining allowing Hamilton to get away – for good.
And it was Rosberg again, the German claimed the 2016 Australian Grand Prix in style leading the Mercedes of Hamilton and the Ferrari of Vettel. Ricciardo finished in P4 with his home crowd cheering in delight, what a race! See you in Bahrain!