In stock form the Mercedes-AMG GT S is by no means a slouch. In fact, it is one of the most luxurious and capable GT cars available on the market today.
But what if you want a bit more power and presence? That's where the guys at Renntech come in! In their most recent release, Renntech has created what can only be described as a ludicrously powerful version of the Mercedes-AMG GT S. After tuning, this GT S produces a whopping 716 hp and 656 lb-ft of torque thanks to an upgraded ECU, a stage 1 turbocharger kit, and new downpipes with 200 cell sport cats.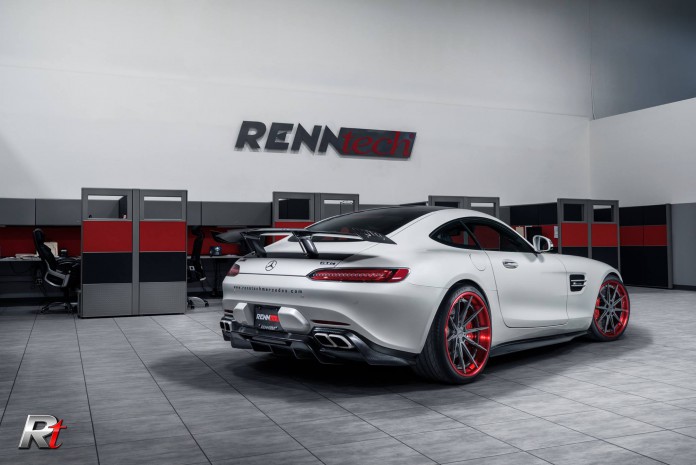 In order to handle all this power, Renntech also installed a new coilover suspension system as well as various aerodynamic additions. The Renntech aero kit on this particular car includes a front splitter, side rocker panels, rear diffuser with exhaust tips as well as an adjustable rear with inspired by those used in DTM.
Completing the stance is a set of Renntech 10 Super-Light wheels with 50/50 exposed titanium hardware. The wheels are sized 20×10 in the front and 20×12.5 in the rear and are finished in a fine textured gunmetal color with a brushed red gloss on the lips.
Thanks to William Stern for the epic gallery of photos of this highly customized GT S!
Renntech Mercedes-AMG GT S