The Spyker C8 Preliator has been unveiled at the Geneva Motor Show 2016. The Spyker is an evolution of the Spyker C8 which briefly went on sale before the company folded. The Spyker C8 Preliator is the latest if Spyker's attempts to resuscitate the brand. It will apparently be produced at Coventry in the UK, just 50 will leave the factory. We took a closer look.
The "Preliator" name means "fighter" or "warrior" in latin and pays tribute to Spyker's aviation heritage.
The Spyker C8 Preliator features a supercharged 4.2 litre Audi V8 engine producing 525 hp and 600 Nm of torque. It comes with a 6-speed Getrag manual gearbox as standard with a 6-speed ZF box as an optional extra. The Spyker C8 Preliator manages to accelerate from 0-100 kph (62 mph) in 3.7 seconds with a max speed of 322 kph (201 mph).
The chassis is an all-aluminium space frame chassis and the suspension system has been supplied by Lotus. It features front and rear independent double wishbones, front and rear stabilisers, shock absorbers and AP Racing brakes.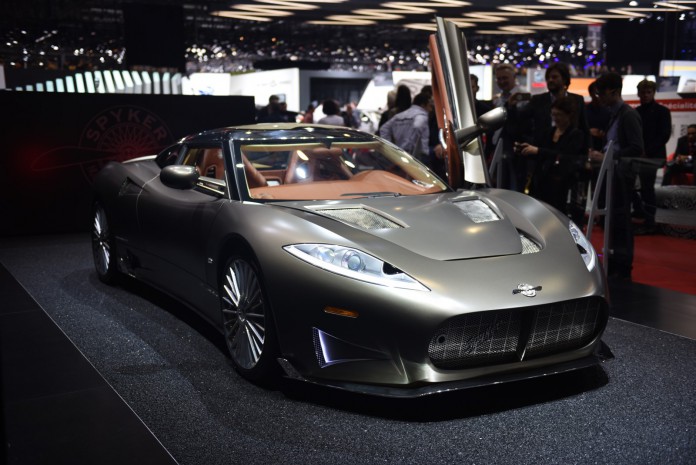 Assembly of the car will be carried out by CPP Metalcraft. The bodywork gets NACA ducts, ailerons added to the front splitter and side skirts and a glass canopy finished in a reflective gold coating. The rear lights are LED's and the Preliator wears 19 inch turbofan wheels.
The Spyker C8 Preliator will be available in a range of 16 colours, although customers can cost whichever they prefer. The show car wears Satin Jet Grey.

Inside, there are fine leathers in 14 different colours, the show car has a Saddle interior with white honeycomb stitching and an ivory leather headliner. The Spyker gets a high end sound system, incorporating a digital radio, Bluetooth interface and Apple iPhone connectivity. The navigation system is operated from the Head-Up Display.
The Spyker C8 Preliator will retail from €324,900 excluding taxes. For more from the Geneva Motor Show 2016, take a look at our dedicated news channel.