McLaren have a very strong display at the Geneva Motor Show 2016. Their stand is just round the corner from Ferrari this year. Naturally, they bought some of the most exclusive McLaren's. We were invited to take a first look at the McLaren stand before the crowds descend!
The McLaren stage is set to be filled with three very important cars. The first is the new McLaren 570GT, the second is the stunning carbon fibre McLaren P1, the final part of the trio is a very unique McLaren 675LT Spider by MSO.
The McLaren 570GT is a marginally softer car with a GT focus rather than pure performance. It benefits from a more luxurious approach as well as a new "kerbside loading" access window. The glass cover at the rear gives the 570GT a distinctly different look from the 570S.
The glass cover allows access to a beautifully finished rear "Touring Deck" that can store additional luggage. The deck allows for an additional 220 liters, on top of the existing luggage space found under the bonnet bringing the total to 330 litres. This makes the McLaren 570GT the natural choice for a weekend away or a blast across Europe.
Next up is the McLaren P1 which gets full visual carbon fibre body with a bespoke 'Lio Blue' tinted lacquer. At least one other full carbon McLaren P1 has been delivered and was made available to McLaren P1 customers earlier in the year. These cars are examples which were delivered from the factory as normal but returned to MSO for a body transplant.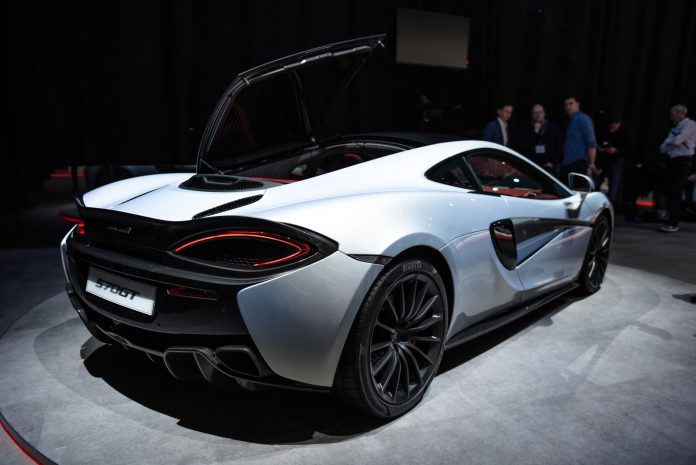 The owner of this particular car went for some other choice upgrades. The car gets a gloss black finish to the wheels. The interior includes a retrim of the interior with carbon black Alcantara and contrasting blue stitching. The final bespoke element is a 24-carat gold exhaust heatshield as a homage to the McLaren F1.
The final car is a stunning example of the McLaren 675LT Spider by MSO. This particular McLaren 675 LT Spider gets a Ceramic Grey exterior with greater levels of carbon fibre than the standard Spider. The retractable hardtop is finished in satin carbon fibre and can be operated at speeds of up to 40km/h (25mph). The carbon fibre construction saves 1kg of weight. New front wings include include carbon fibre louvres.

Inside, the racing seats get black Alcantara trim with Xenon Yellow contrast stitch and Solis coloured rotary Handling and Powertrain controls. Solis is a unique colour, available only on the McLaren 675LT Spider. The engine bay features gold detailing with a 24-carat gold heatshield and a titanium exhaust system.
We will of course bring you detailed summaries of these cars tomorrow once they hit the public. Be sure to check our dedicated news feed for all the latest from the Geneva Motor Show 2016.