Mansory always seem to have something extreme up their sleeve, their display at the Geneva Motor Show 2016 is no different. The latest Mansory kits includes a Mercedes-AMG GT S with a unique Mansory twist. A complete aerodynamic overhaul makes it one of the more extreme Mercedes-AMG GT S to date!
The wide bodywork package makes the Mercedes-AMG GT S seem extremely aggressive. A new front bumper and spoiler have been fitted adding increased cooling, while the fender flares add an additional 25 centimetres to the overall width. Side skirts are new and the rear package includes an extreme diffuser and stylised rear spoiler. The bonnet is finished in exposed red carbon fibre.
In recent times, Mansory have offered performance enhancements, Their take on the Mercedes-AMG GT S is no different. The 4.0 litre V8 gets an increase in performance up to 730 hp. The main components of the performance package include larger turbochargers and a stainless steel sports exhaust together with a sports air filter and a new mapping system for the engine's electronics. The AMG GT S now takes just 3.4 seconds to go from 0 – 100 km/h with a top speed of 330 km/h.
Mansory Mercedes-AMG GT S
New lightweight wheels are fitted to this model. They are known as Spyder and come in a combination of 9.5×21 inches at the front with tyres of 245/30ZR21. At the rear, they measure 10.5×21 inches with a tyre size of 305/25ZR21. Mansory also offers '10-spoke central lock rims'. A Mansory spring kit helps combine to lower the overall ride height of the AMG GT S.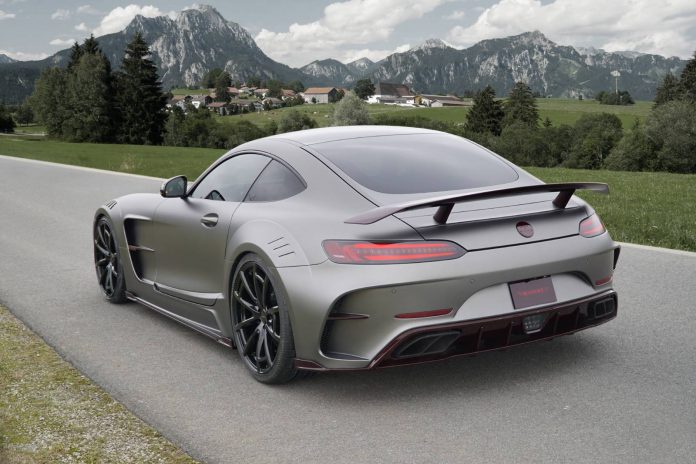 Inside, the Mansory Mercedes-AMG GT S receives a full makeover. The carbon fibre accents stick out more than anything else. The seats get black and red leather with white accents and trim pieces. There is a new sports steering wheel designed especially for the Mercedes AMG GT. Typically, Mansory also fit embroidered logos and illuminated door together with pedals and a red carbon rear brace.