Brabus has debuted their take on the latest Mercedes-Benz C63 AMG S ahead of an official unveiling at the Geneva Motor Show next month. Like so many other Brabus products before it, the Brabus Mercedes-AMG C63 S offers up unmatched levels of power for its segment while also improving on the exterior styling and cabin materials.
Thanks to a new pair of larger turbochargers and a Brabus control unit, the C63's 4.0-liter V8 produces 650 hp (up from 510 hp) and 604 lb-ft of torque (up from 516 lb-ft). This enables the C63 sedan to accelerate from 0-62 mph in 3.7 seconds before reaching an electronically limited top speed of 300 km/h (186 mph) or 320 km/h (200 mph), depending on the customer's preferences. The C63 estate will accelerate from 0-62 mph in 3.8 seconds and is also electronically limited 20 either 300 km/h or 320 km/h.
Brabus Mercedes-AMG C 63 S
An available performance exhaust ensures the Brabus C63 AMG S sounds as spritely as it performs. The unit comes equipped with electronically-controlled butterfly valves, which allow for an ultra-quiet 'Coming Home' mode to be used in order not wake up the neighbors. Height-adjustable Bilstein coilovers are also available to those customers looking for additional responsiveness and agility.
The exterior is enhanced with various naked carbon fiber Brabus body components including a front splitter, air intake surrounds, rear diffuser and spoiler and exhaust covers. Various Brabus wheels are also offered on the car including the tuning firm's five-spoke Monoblock T wheels, which are the latest addition to its wheel portfolio.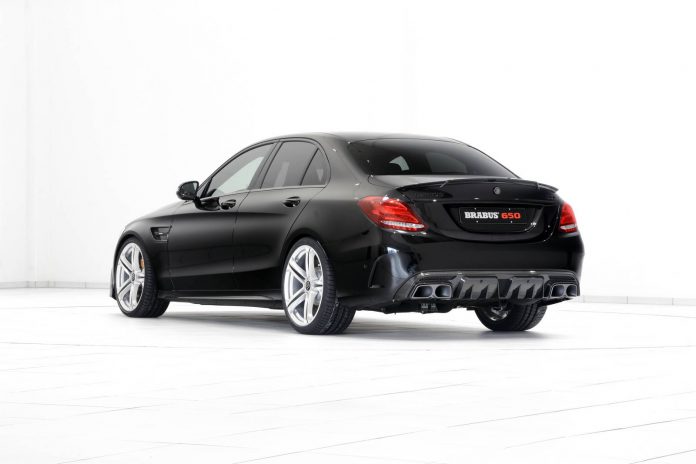 Inside the sport seats, parts of the steering wheel rim, dashboard and door center panels are covered in black anti-slip Alcantara, while other surfaces are swathed in black leather with bright yellow elements. The carbon exterior bits are also complimented by additional carbon on the instrument panel, center console and door panels.