AC Schnitzer's big release for the Geneva Motor Show 2016 is the AC Schnitzer ACL2. The ACL2 is based upon the BMW M 235i rather than the new BMW M2. That said, performance far exceeds the M2
The AC Schnitzer ACL2 gets 570 hp. The power isn't applied to the normal BMW M 235i, the ACL2 gets an engine transplant with the BMW M4. The downpipe has been replaced which allows for higher boost. An AC Schnitzer sports exhaust system also assists in improving performance. The ACL2 manages 0 to 100 km/h in just 3.9 seconds with a 330 km/h top speed.
The rear limited slip differential is replaced with a Drexler diff lock which ranges from 25 to 95 percent. AC Schnitzer also fit a carbon intake tract and lightweight battery.
BMW M235i by AC Schnitzer
The brakes have been replaced with 6-pot fixed caliper brakes at the front with 400 x 38 mm carbon ceramic brake discs and 4-pot brakes on the rear with 380 x 28 mm carbon ceramic discs. Suspension improvements include a height adjustable AC Schnitzer Clubsport package and a carbon strut brace.
The bodywork includes a carbon front spoiler, front splitter and carbon front side wings. The rear gets a carbon rear diffuser and a carbon "Racing" rear wing with Gurney flap. The wheel arch extensions get air outlet openings in the wheelarch and three air deflector wings on each side. Overall, they increase the width by 140 mm over the standard vehicle, 70 mm on each side.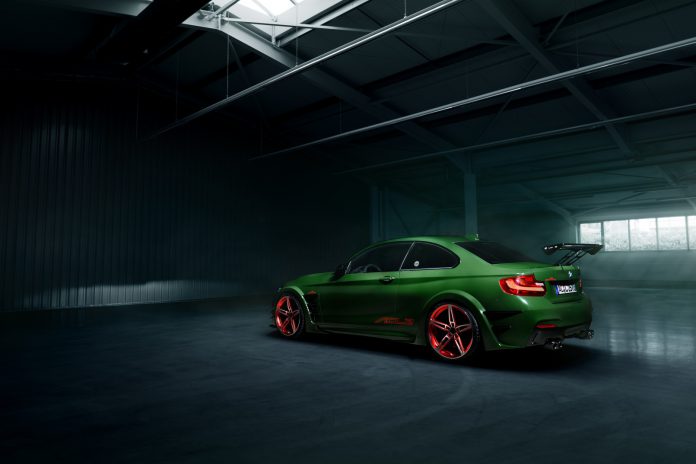 Other components include the AC Schnitzer carbon bonnet and the Classic Racing Green paintwork. AC Schnitzer also offer special "Racing" sports mirrors.
Inside, the AC Schnitzer ALC2 features a BiColor leather interior with green and perforated Nappa leather together with a black suede and green stitching. It gets AC Schnitzer Carbon racing bucket seats, an AC Schnitzer "Evo" 3-spoke sports airbag steering wheel, carbon door handles and a carbon centre console.