Lotus' second new model for the Geneva Motor Show 2016">Geneva Motor Show 2016 is the Lotus Evora Sport 410. The Evora Sport 410 is a product of the Lotus Lightweight Laboratory. It will be limited to 150 units per year with deliveries beginning in June 2016 and a US version on the way soon.
Lotus have managed to shave 70 kg from the Evora bringing total weight down to 1,325 kg. The Evora gets a carbon fibre tailgate, light-weight door trim panels and plenty of other carbon fibre applications including a front splitter, roof panel, tailgate and rear diffuser.
The Lotus Evora Sport 410 shares the engine from the Lotus 3-Eleven. The supercharged 3.5 litre 6-cylinder has 410 hp at 7,000 rpm and 410 Nm of toque at 3,500 rpm. Performance from 0-60 mph is 3.9 seconds with a top speed of 186 mph. The Evora Sport 410 manages a lap of the Hethel test track in 1 minute 28 seconds.
The Lotus Evora Sport 410 has a manual gearbox and a low inertia flywheel with a limited slip differential. An automatic is available as an option with aluminium shift paddles. The Lotus Dynamic Performance Management system is also available with Sport and Race settings.
Lotus have also re-calibrated the suspension with revised damping and a 5mm reduced ride height. Lotus also fit ultra light-weight, 10-spoke forged aluminium wheels, and optional Michelin Cup 2 tyres.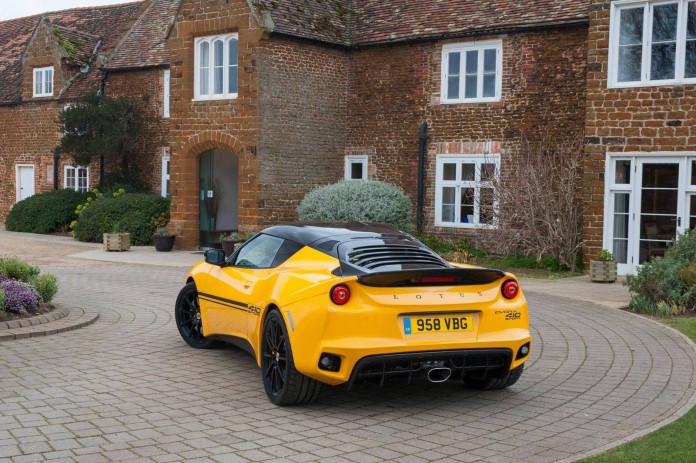 Inside, the Evora Sport 410 comes with carbon fibre sports seats trimmed with Alcantara. It also gets one-piece door trim panels finished in Alcantara, with contrast stitching and no door arm rests or stowage pockets. The tailgate and fuel filler release buttons have been removed and the speakers removed. Lotus also fit an optional integrated touch-screen entertainment system.