Details of the production version of the Rimac Concept_One have been officially unveiled ahead of the Geneva Motor Show 2016. The Concept_One will be the world's first all-electric hypercar when it hits the market. Only eight units of the Rimac Concept_One will be produced so the Concept_One will be extremely limited.
The Rimac Concept_One is powered by four permanent magnet electronic motors with one per wheel each located in the centre axel. The front features two Rimac Automobili D-PM-OC-500, high speed permanent magnet oil cooled motors, with a 500 kW peak, 12.000 rpm and 2 single speed gearboxes. At the rear there are two Rimac Automobili D-PM-OC-600 high speed dual permanent magnet oil cooled motors, with a 600 kW peak, 12.000 RPM and 2 double clutch two-speed gearboxes.
The 8450-cell battery back is designed to deliver 1000 kW or 1MW of power during acceleration and to absorb 400 kW during braking. Power is rated at 1,088 hp and 1,600 Nm of torque. standstill to 100 km/h in just 2,6 seconds, to 200 km/h in 6,2 seconds and 300 km/h in 14,2 seconds. Top speed is 355 km/h with lateral g-forces of 1.4 g.
Rimac Concept_One Production Spec
Rimac have developed an all-wheel torque vectoring system (R-AWTV). R-AWTV combines the functions of traction control, stability control and ABS into one system. Testing was carried out at Pikes Peak Hill Climb in Colorado with Nobuhiro Monster Tajima droving the Tajima Rimac e-Runner. The system reduces or raises the torque depending upon the situation or driver inputs.
The Rimac Concept_One gets carbon ceramic braking and a regenerative braking system. Four drivetrain modes are also available including a comfort, control, track and drift mode, or alternatively, a custom set-up can be created. All vehicle dynamics and powertrain functions are controlled through physical buttons, machined from billet aluminium. Secondary functions are controlled through the central touch-screen.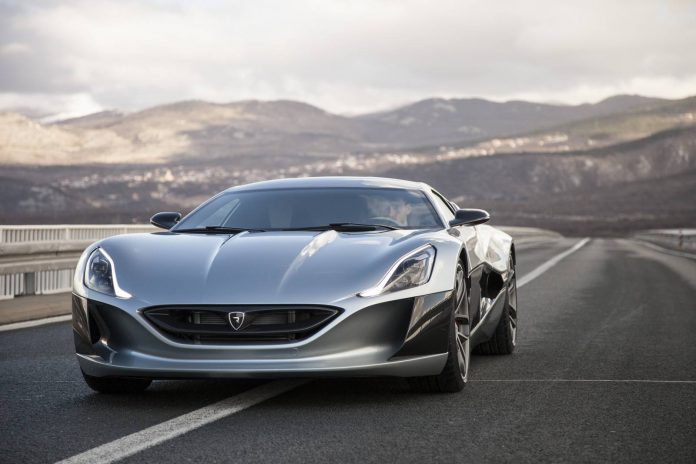 The Concept_One gets plenty of metal, electric and carbon fibre parts, each manufactured, assembled and tested for each Concept_One. The car is constructed at Rimac Automobili's Sveta Nedelja facility. The chassis is a Chromoloy space frame with aluminium and carbon fibre semi-stressed members. Fully adjustable, pushrod operated, double wishbone suspension is fitted front and rear with hydraulically adjustable ride height.