A break from everyday life to reflect on the simple and beautiful things is very important. A perfect place for this is Southern Styria in southern Austria. It is a region which offers beautiful and unique nature.
Famous for Southern Styria is the South Styrian Wine Road, along which you will find a fascinating world of culinary experiences, with excellent wines and natural juices. There are delights from the local cuisine, combined with elements from the new world and Star restaurants on offer.
At the end of the wine route you will find a concept which lets you experience this feeling even more, a concept called "PRUESLeben" (Pure Life).
Dietmar Silly started in 2004 to create unique holiday homes, which brings together untouched nature and the enjoyment of homes to its visitors. These houses are characterized by their luxurious and light-filled atmospheres. Local products and delicious wines from the estates of this region are all available. These homes offer luxury and relaxation in the purest form allowing you to unwind and enjoy peace and harmony.
Location
Twelve kilometers away from the end of the beautiful and hilly Southern Styria wine route you will find the premium houses from PURESLeben. The houses are way from densely populated areas and busy roads. They are located at the head of one of the highest hills and give a great view of the entire region.
The portfolio of the cottages includes 2 categories namely "Premium Homes" and "Location Houses". The premium homes are true oases of well-being and are characterized by their private spa areas, which consists of outdoor pools and private saunas. The location houses feature great surroundings in the middle of the vineyards, fragrant fruit trees and lush nature.
Premium Homes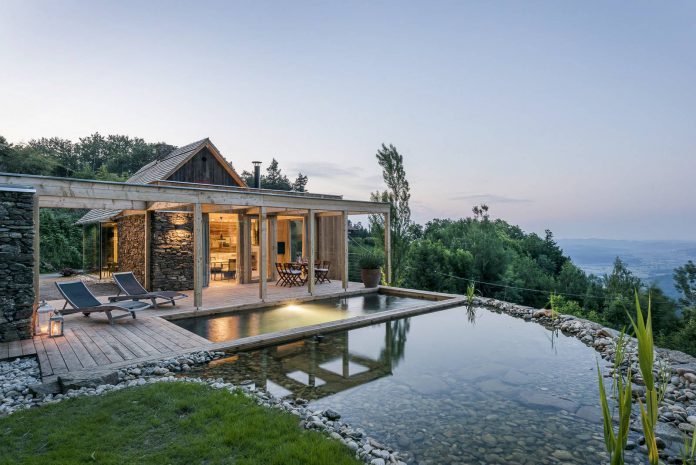 There are four Premium homes available (Steinriegel, Lieschnegg ,Stadl, Stadl in Altenbach ), which are new buildings or old but completely revitalized farm buildings. All are characterized by open, spacious and light-filled rooms, which consist of regional, solid wood and stone. Each house has its own unique touches, such as rock interior gardens, open fireplaces and big couches in front of the large glass fronts. It immediately raises a relaxed and quiet atmosphere upon entry.
There is plenty of seating and rest facilities in the outdoor area along with barbecues.
Spa & Pool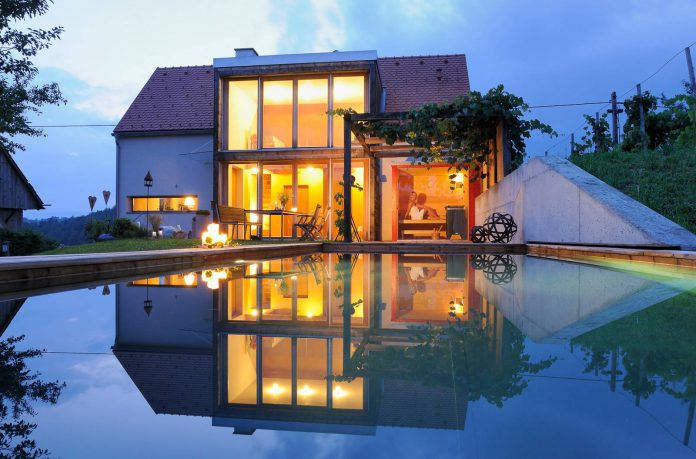 Each of the Premium houses has its own outdoor sauna, which are designed with large glass fronts offering a view over the whole region of vineyards. These saunas are hidden so that you can enjoy the wellness experience in privacy. Inside you can find little rest areas designed with stones and lovely details to bring the landscape of Southern Styria inside.
Beautiful outdoor pools complete the SPA area. In House Lieschnegg an infinity pool is built, giving you the feeling that you are hovering over the region.
Catering / Food & Drink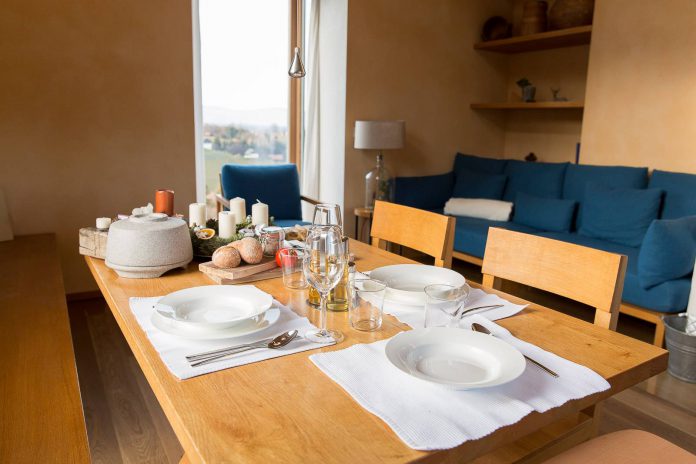 The concept of the homes concentrates on enjoying silence and pure life and offers guests a kind of self catering service. The offer includes a fresh breakfast basket with biscuits, sausage and cheese from the owners farm. On request you are supplied with dinner and a 3 course menu consisting of local delicacies. In the houses you will find a rich and delicious range of domestic wines and juices from the winery. If that is not to your taste you will also find a map with select restaurants from the area.
Conclusion
The concept of PURESLeben is a slightly different luxury holiday. The homes combine the utmost comfort with the most beautiful regions in Austria. The houses with their private SPA areas offers you all what you need to find peace, silence and harmony, to feel the essentials of pure life. The region offers a special feeling consisting of nature, art and culinary delights, it is one of the most desirable places in Austria between spring and autumn.