As milestones in life go, very few are as significant as marriage. Such an important occasion means that friends and family travel from far and wide to be with the bride and groom to celebrate the start of the next chapter of their lives. On the 30th January 2016 the founder of GTspirit, Des Sellmeyer, invited a few members of the team to join the celebrations in Meran, Italy, to stay in the Miramonti Boutique Hotel and enjoy the wedding.
The wedding weekend was beautiful and tears rolled following the emotional speeches. The formalities alone were very special, but being a GTspirit wedding, the cars had to to be just as exciting. They were.
Our good friends Luca from Pagani and Martin from Elite Garage brought along two spectacular cars with them. The Huayra is a special car by any measure. The AMG powered 6-litre twin-turbo V12 is capable of powering the carbon bodied hypercar to a 100 km/h in just 3 seconds. The 700hp machine has 1000 Nm of torque and tops out at a mind blowing 370 km/h. This car is even more stunning in its deep red finish contrasted by naked carbon fibre panels and black Zonda R design wheels.
Where the Huayra would make the ultimate weekend car to enjoy the twists and turns of the mountain roads, the Mercedes-Benz G63 AMG combines comfort and refinement with the brute force of a 5.5-litre twin-turbocharged V8 engine, that produces 536 hp and 760 Nm of torque. This allows the G63 to sprint from 0 to 100 km/h in just 5.4 seconds.
The initial plan was that the bride would be driven to the church in the Huayra, the very example that featured in the Transformers movie, but the plan was thwarted by a potent bout of first world problems – the dress being too large to fit in the cabin!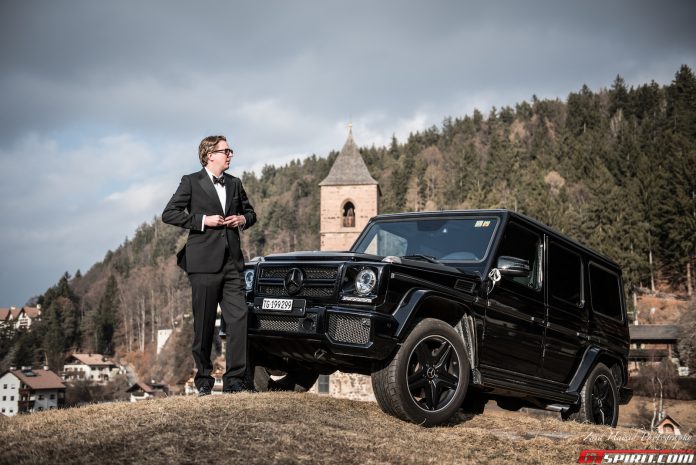 Before the ceremonies began we had the chance to take the two cars on a photoshoot around to glorious grounds of the hotel and hills around Meran. The two cars looked fantastic in one another's company, the scenery was jaw-dropping. A top of the flowing mountain roads was the Meran 2000 Ski Resort, we doubt there has ever been such a bizarre scene in the car park before with dozens of skiers stopping to catch a glimpse of the sensational duo! The wedding alone was something to never forget, the addition of such sublime cars made this one of the most memorable weekends of our lives.
On behalf of the entire GTspirit team – A huge thanks to Luca at Pagani and Martin from Elite Garage for attending in such tremendous cars. Another massive congratulations to Des and Tini on their marriage. Many thanks for all the opportunities, the road trips, the laughs, all the hard work and great memories will never be forgotten.
Photos by Markus Brunner, Philipp Rupprecht and Zaid Hamid