Renault has announced its return to F1 as a whole works team at an event in France today. They also revealed a new F1 car, the Renault Sport RS16 whose chassis will be developed by Enstone.
Infiniti has been confirmed as the Technical Partner for the new Renault Sport F1 Team, they will provide engineering resources specifically for the RS16 Energy Recovery System. Infiniti has been working on performance hybrids and holds the world record for the fastest accelerating full hybrid vehicle, the Q70 saloon. The Nissan-owned brand was involved with Red Bull F1 as technical partner since 2011.
The new RS16 F1 car was revealed in black and yellow livery, making Renault Sport the first competitor to reveal its 2016 F1 challenger. The decision to return to F1 comes after recent evaluations where the French manufacturer felt it was best for them to focus on F1 as a works team. They dropped out of F1 in 2011 but have been supplying engines to Red Bull F1.
Speaking at the launch event, Renault CEO Carlos Ghosn said, 'Motorsports still spark the imagination of both enthusiasts and everyday drivers, and we are putting a comprehensive program in place today. Formula 1 is a big part of our efforts to boost awareness of Renault, particularly in markets where Renault is a newcomer, and will enhance the transfer of technologies from the track to our road cars."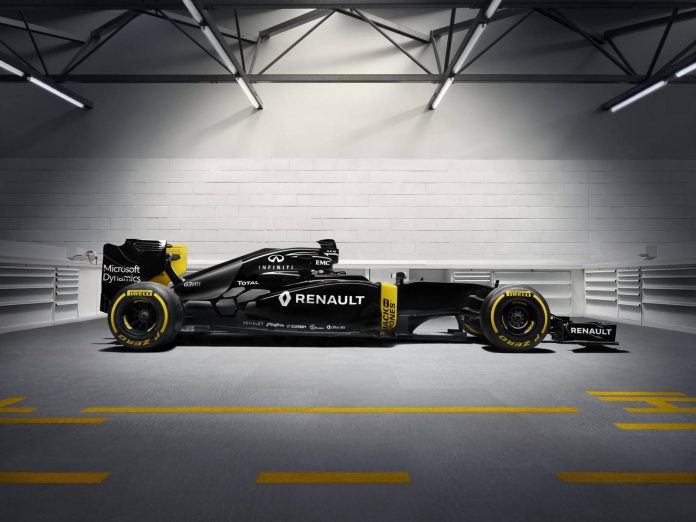 Renault Sport also confirmed their driver lineup for 2016 which will comprise of Kevin Magnussen – who replaces Pastor Maldonado – and Jolyon Palmer. Esteban Ocon will act as the reserve driver for the Renault Sport F1 team. Meanwhile, Maldonado's contract was terminated after Renault failed to resolve internal differences with his sponsor, PDVSA from Venezuela. The ex-Lotus driver still has a chance to race in 2016 if Manor decides to pick him up for their driver lineup.
Elsewhere, Bob Bell who left Manor in October has been appointed as the new Chief Technical Officer. Nick Chester will serve as the Chassis Technical Director while Rémi Taffin becomes the new Engine Technical Director.