VLF Automotive has revealed the Force 1 V10 supercar in conjunction with famed automotive designer and former founder, Henrik Fisker.
The Force 1 is based on the chassis of a current-gen Dodge Viper albeit with entirely new bodywork and styling everywhere else. The body is composed entirely of carbon fiber, helping the car to sit at a curb weight of 3,395 pounds. Heavy for a carbon-fiber bodied car, but for what it lacks in weight savings the Force 1 makes up for in horsepower.
Force 1 V10 by Henrik Fisker
The Force 1 is powered by the Viper's 8.4-liter V10 that has been tuned to deliver 745 horsepower and 638 pound-feet of torque. For reference, the standard Viper only produces an output of 645 horsepower. All of that power will be sent to the rear wheels via an optional paddle-shifted, six-speed automatic gearbox or a standard manual six-speed box.
From standstill, the Force 1 will reach 60 mph in 3.0 seconds flat on the way to a top speed of 218 mph. It can hit the quarter mile in 10.97 seconds at 136.88 mph.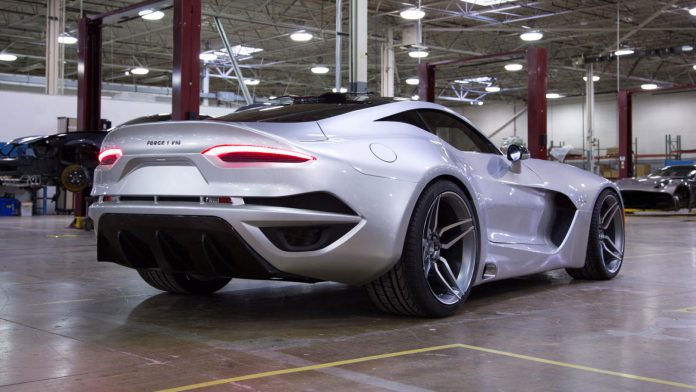 Production of the Force 1 will start in April with a total of 50 cars slated to be produced. The starting price of the Force 1 supercar is $268,500.