The Porsche 911 is one of the most iconic shapes in the automotive world. And while many find its style to be a timeless classic, it can be considered a bit subtle and subdued in comparison to the performance it offers. This is where Vorsteiner's latest and greatest creation comes in. Vorsteiner has released a bold and aggressive new bodykit specially crafted for the 991-generation 911 Turbo S models.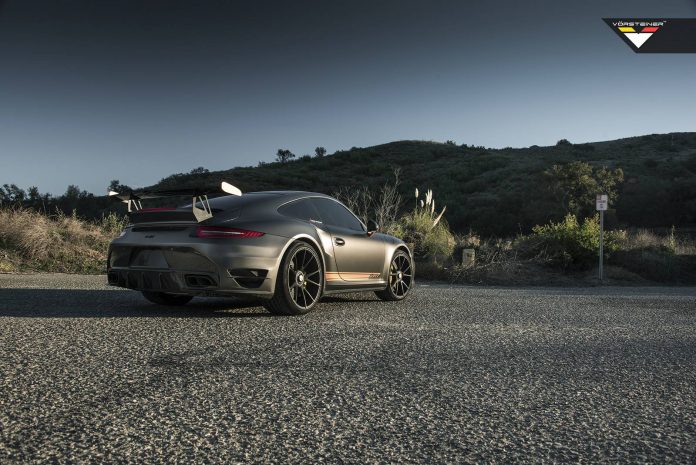 Displayed here is Vorsteiner's spectacular V-RT Edition Porsche 911 Turbo S in full V-RT kit. Compared to the standard Turbo S, the Vorsteiner kit offers a more aggressive, sportier stance that provides measurable increases in downforce levels in addition to aesthetic upgrades. The kit includes a custom Vorsteiner V-RT Front Spoiler, V-RT Rear Diffuser and V-RT Aero Rear Wing.
Those who wish to have an even more aggressive look can opt for the optional carbon fiber vented front fenders.
Completing the look is a custom set of Vorsteiner V-202 forged wheels (centerlock option) finished in a beautiful satin black. The V-202 wheels are sized 21×9 in the front and 21×12 in the rear on this particular car. Additional sizes of 19, 20 and 21 inches are available depending on the look you wish for your car and application.
Vorsteiner V-202 forged wheels are available in 19, 20 and 21 inches.
Check out this amazing Vorsteiner V-RT custom 911 Turbo S build in the gallery below!
Vorsteiner Porsche 911 Turbo S