Lexus shocked the Detroit Motor Show 2016 crowd by debuting one of their most striking flagship cars to date, the Lexus LC 500.
The LC 500, which has been in development for years in various different forms, will be positioned the new flagship of the Lexus line-up. The 2017 Lexus LC 500 features a 2,870 mm (113 inches) in wheelbase and overhangs of 920 mm ( 36.2 inches) and 970 mm ( 38.2 inches) at the front and rear respectively. It gets a rear diffuser and active rear spoiler to help manage airflow. The wheels are machined cast aluminium units in 20 inches or forged aluminium and 21 inches.
The Lexus LC 500 is the first Lexus to use an all-new, premium rear-wheel-drive luxury platform. The underpinnings of this new coupe will form the basis for Lexus' future front-engine/rear-wheel-drive vehicles. The driver hip and heel points have been lower in the chassis, the wheels have been pushed to the corners of the car with shortened overhangs, and the drivetrain mass has been located behind the front axle line to create a front mid-engined layout.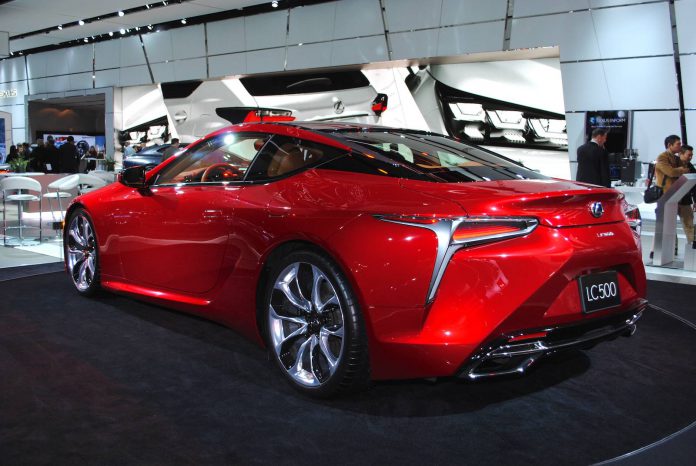 Under the bonnet is 2017 Lexus LC 500 high-revving naturally aspirated 5.0-liter V8. Its an all-aluminum, 32-valve V8 with an output of 467 hp with 389 lb.-ft. of torque. Lexus fit an active exhaust that opens baffles in Sport mode, even when the vehicle is in Normal mode the exhaust baffles open above 3500 rpm. A Sound Generator gives tuned acoustic enhancements to the engine's exhaust note. The engine is coupled to a new 10-speed automatic transmission.
While many assume this car will compete directly against the likes of the Porsche 911, in terms of specs and price the LC 500 is more closely rivalled to the likes of the BMW 6-series and Mercedes-Benz S-Class.
For more pictures from the Detroit Motor Show 2016, see our news channel.