Along with the E-Class and the SLC-Class, Mercedes-Benz also launched the S65 AMG Cabriolet at the Detroit Motor Show 2016. We headed over to Mercedes' booth to have a look at the car.
The latter gets the powerful 6.0-litre V12 biturbo engine that is also seen in the SL65 and G65 AMG models. It is the first time that Mercedes will offer a V12 in a four-seater convertible and the S65 will join the S550 and the S63 in the S-Class Cabriolet series. It's worth pointing out that Mercedes considers the S-Class Cabriolet a competitor of the Bentley Continental GT, thus it makes sense for the company to offer a 12-cylinder variant (the S63 gets a V8).
Mercedes-AMG S65 Cabriolet
That being said, the engine generates an astonishing 630 hp and 1000 Nm of torque, allowing the convertible to go from 0 to 100 km/h time in just 4.1 seconds. Despite the drop-top, the convertible has a similar performance to the coupe owing to lots of weight-reduction steps taken by Mercedes.
The luxury cabriolet's transmission will feature three individual driving modes and the AMG Speedshift plus 7G-tronic transmission makes sure power is transmitted to the rear axle. The three individual driving modes comprise controlled efficiency (C), Sport (S) and Manual (M).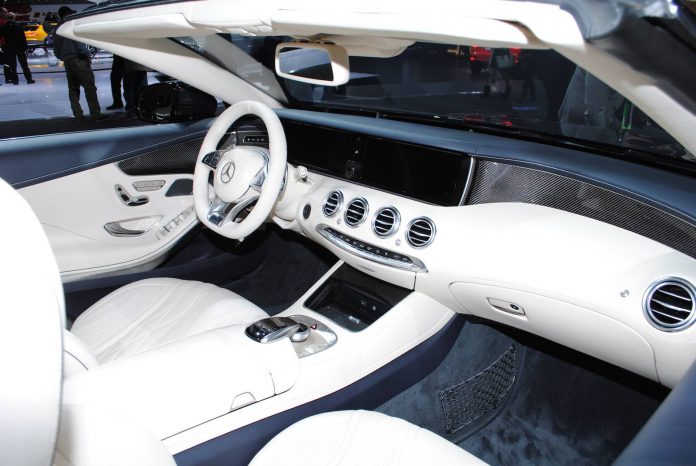 For more information about the Mercedes-AMG S65 Cabriolet, read our dedicated post and to get more updates about the Detroit Motor Show 2016, visit our news channel.