For the enthusiasts that think a regular Tiguan GTE doesn't suffice, Volkswagen just presented the Volkswagen Tiguan GTE Active Concept at the 2016 Detroit Motor Show! It is described as an extreme off-road version based on the second generation Volkswagen Tiguan.
Powered by the Volkswagen Tiguan GTE plug-in hybrid drivetrain, the GTE is Volkswagen's first SUV to use the new MQB platform. The Volkswagen Tiguan GTE Active Concept features a 148hp petrol engine and two electro motors, making it possible to drive up to 20 miles in e-mode only.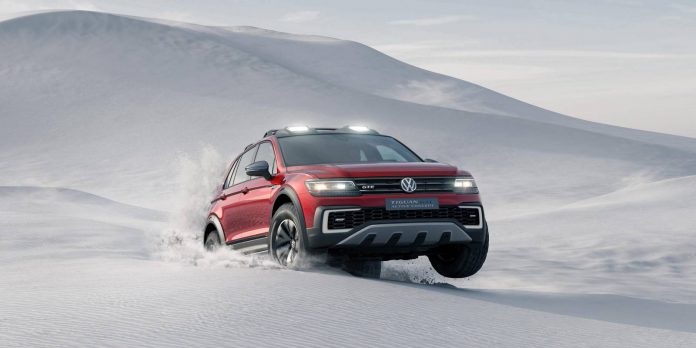 Being the more extreme version of the regular Tiguan GTE, the Volkswagen Tiguan GTE Active Concept has enhanced off-road performance and is to feature updated 4MOTION active driving programs. The enlarged SUV is especially designed for the North American market, and could offer space to a maximum of 7 people.
The total range of the car, containing a 16.9 gallon fuel tank and a battery capacity of 12.4 kWh, is up to 580 miles. With 54hp at the front axle and 114hp at the rear, the total power of the car supplying all four wheels is 221hp and 184 pound-feet of torque.
The plug-in hybrid SUV is fitted with a 6-speed dual clutch (DSG) automatic gearbox, which is a good match for the plug-in hybrid drivetrain. What's interesting, is that when the car is being driven using the combustion engine only, it basically becomes a front wheel drive. The all-wheel drive and off-roading functions are therefore only available when both the combustion engine and electro motors are engaged.
When looking at the exterior, we can see quite a tougher version of the regular Volkswagen Tiguan GTE. The Volkswagen Tiguan GTE Active Concept received upgraded trims on all sides and skid plates all-around, emphasizing on the fact that the car is built for facing off-road challenges. The ground clearance of the Volkswagen Tiguan GTE Active Concept is raised with an impressive 1.7 inches, making it possible for the SUV to drive up ramps with angles up to 24.7 degrees. Additionally the car is fitted with 16-inch 245/70 tyres that wouldn't misfit a monster truck.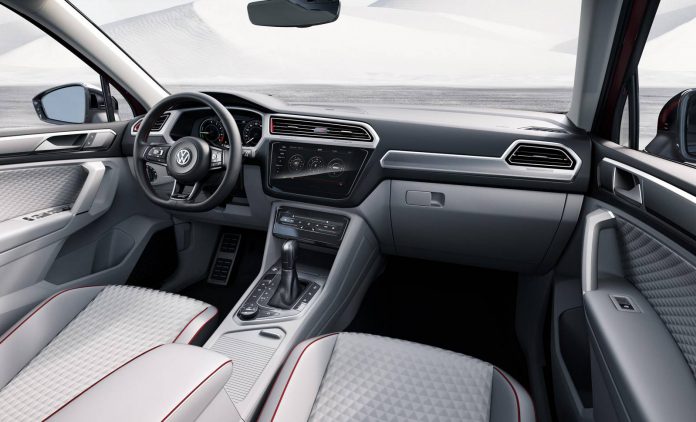 Important interior updates include the large 9.2-inch infotainment touch display and the gesture control, the latter being a prime in the SUV segment. First seen on the BMW 7-Series and presented on many concept cars during the CES 2016 in Las Vegas just a few days ago, the gesture control feature is popping up left and right.
The enlarged version of the Volkswagen Tiguan GTE is to arrive at U.S. dealers by 2017.