Jaguar just announced the F-type British Design Edition, complimenting the already stylish F-type sports coupe. The exclusive design edition will be based on the 380ps V6 S version of the Jaguar F-type.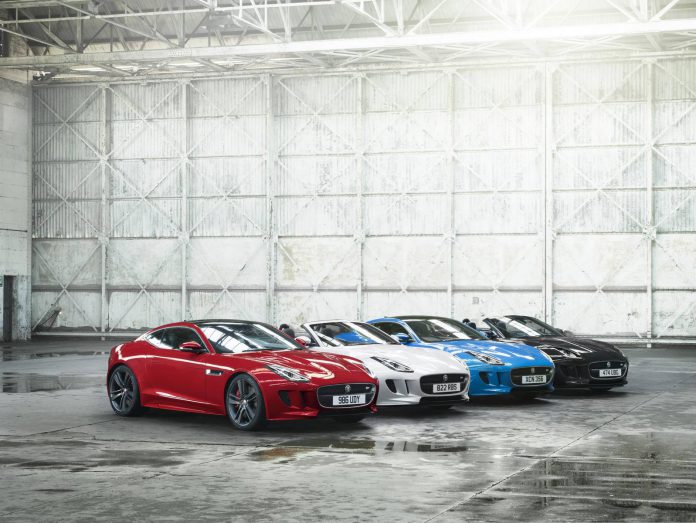 Jaguar has managed to strike many car lover's hearts with the design and sound of the Jaguar F-type, winning several design awards as a result. Celebrating the success of the Jaguar F-type, the Jaguar F-type British Design Edition brings customers several enhanced exterior changes and a legion of additional equipment as standard on both the Coupé and Convertible body styles.
Jaguar will let its customers choose between four colors, three of them not coincidentally taken from the British flag. Caldera Red, Glacier White, Ultra Blue and Ultimate Black are to options concerning the car's paint job. The exterior design pack comprises Jaguar's super performance breaking system with the calipers painted red, Satin Dark Grey finished 20-inch cyclone wheels, Jet premium leather interior with red, ivory or blue stitching and British Design Edition branding.
Jaguar F-Type British Design Edition
Additionally customers can opt for the 770W Meridian Surround Sound System if the 380W Meridian sound system won't suffice. The new InControl remote app will also be available on this version of the F-type, and is now compatible with the Apple Watch. A cool gadget to have, being able to check your fuel level, lock or unlock your car and even start the car remotely using the Apple Watch.
Lastly the British Design Edition brings the Eight-speed Quickshift transmission and all-wheel drive system to the F-type as standard. Prices in the UK will start at 75.225 Sterling for the Coupé version and £80,390 for the convertible version of the F-type. First deliveries in the UK are scheduled for Spring 2016, the rest of Europe will probably have to wait until summer 2016.