The Mercedes-AMG C63 Wagon probably resembles the essence of a true 'Express Transporter'. Providing AMG enthusiasts with that extra portion of space ever since the introduction of the C43 AMG back in 1997, the Mercedes-AMG C63 Wagon is to carry on the legacy.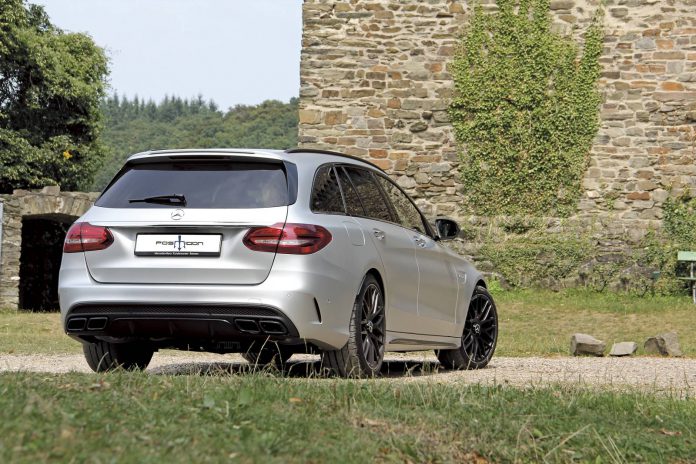 The Mercedes-AMG C63 Wagon packs Mercedes' prominent 4.0 litre V8 Biturbo outputting 476hp and 650 N.m. of torque in factory condition. The even more powerful C63 s estate has 510hp and 700 N.m. of torque. The top speed on both variants of the C63 wagon is electronically limited to 250 km/h and as usual can be raised with the AMG Driver's Package. For customers that fancy spending a little more on their AMG and can proof their driving skills to the AMG driver's academy, the top speed will be limited at 290 km/h.
A second option for the speed maniacs among us would be dropping the C63 by German tuner Posaidon. Posaidon promises to return a far more capable Mercedes-AMG C63 Wagon that will make the speedometer top out at 343 km/h. After the performance upgrade, the C63 AMG station wagon outputs 700hp and 890 N.m. of torque. This leads the fast estate to reach a 100 km/h in just 3.4 seconds, that is 0.8 seconds faster than the original 4.2.
700hp Mercedes-AMG C63 Wagon
The immense power upgrade comes as a result of installing Posaidon in-house upgrade turbochargers and upgrading the air cooling system. The wagon is furthermore fitted with a motorsports grade exhaust system, which connects to the car's turbochargers directly.
Posaidon furthermore offers to optimize the SPEEDSHIFT MCT 7-speed transmission or upgrade the rear differential on the regular C63 models. This will lead to better traction on the rear wheels through its increased barrier effect. Finally there is the Posaidon speed-trap update for all C63 variants, which integrates adequately into the COMAND online system.