Earlier this month St. Regis Hotels & Resorts opened their first luxury property in Dubai, United Arab Emirates. The property is owned and managed by the Al Habtoor Group Dubai and features some elite services and culinary venues. The St. Regis Dubai will also be launching Dubai's first Iridium Spa and will have a fleet of Bentleys ready to escort guests throughout the city.
What's more and absolutely unheard of, is that the St. Regis Dubai will feature a Bentley Suite, which is to be opened early next year. The newly opened St. Regis is located in Al Habtoor City, a luxury development that is right on Sheikh Zayed Road, Dubai's most well-known road. Al Habtoor City will feature two additional Starwood Group hotels in the same development, a W hotel and a Westin hotel.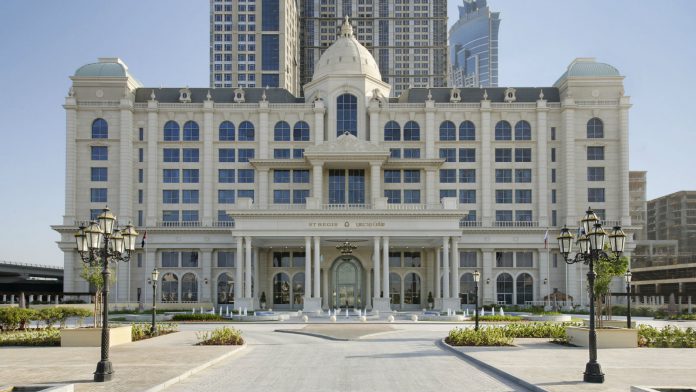 The signature neo-classical architecture pays tribute to the original and first ever opened St. Regis hotel in New York back in 1904, located in Manhattan on the corner of 55th Street and Fifth Avenue. The neo-classical design features will also be highly present and recognizable in the interior of the St. Regis Dubai. Upon arrival in the lobby guests are greeted by a grand chandelier comprising 1200 pieces of hand-cut crystal, that is shining its light on the grand staircase the hotel features.
The St. Regis Dubai has 234 guest rooms, of which 52 are suites. Each of the guest rooms have no shortage of luxury ambience to offer the guests, as chandeliers, marble bathrooms and signature St. Regis beds come standard. The 913 square metres and two-story 'Royal Suite' steals the show and is located in the central dome of the luxury property. It has a rooftop plunge pool, living and dining room, study, lounge room and spacious majlis for guests to enjoy.
The true pearl of the St. Regis Dubai will be the yet to be opened Bentley suite, that is inspired by the design of the elegant Bentley Mulsanne luxury vehicle. The suite is to feature leather finishes and wood vineers among other luxury materials that are also used in the 'regular' suites of the hotel.
The St. Regis Dubai offers guests plenty of choice in terms of dining, comprising no less than eight culinary venues. A French brasserie, steakhouse, Parisian style café and a rooftop dining venue are among the options guests can choose from. The hotel is additionally featuring the St. Regis bar, where cocktails are a specialty and a luxury champagne lounge.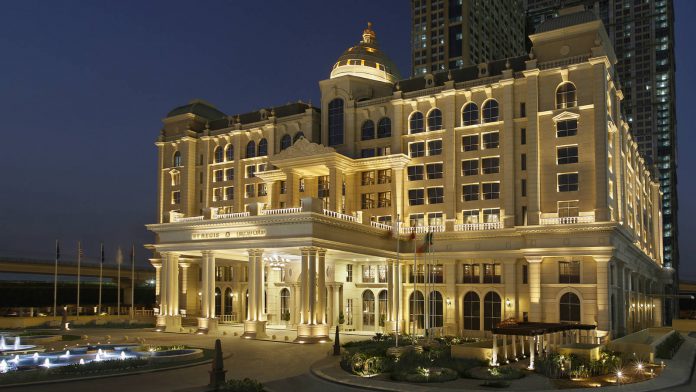 To top off the endless list of amenities, the St. Regis has two rooftop swimming pools, a 24 hour fitness centre, a prestigious 800 square metres ballroom and six meeting rooms. Oh, and the hotel also has a helipad, yes, an actual helipad for guests to arrive in style..