The Autoworld museum in Brussels, Belgium is currently running an all-Italian car exhibition from December 3rd 2015 until January 31st 2016. The focus of the exhibition lies on classics from as early as the 1950's until the 1980's, with many pearls from both private and museum collections on display. Among the represented manufacturers we can find Italy's traditional big seven car builders: Lamborghini, Ferrari, Maserati, Bugatti, Alfa Romeo, Lancia and Fiat.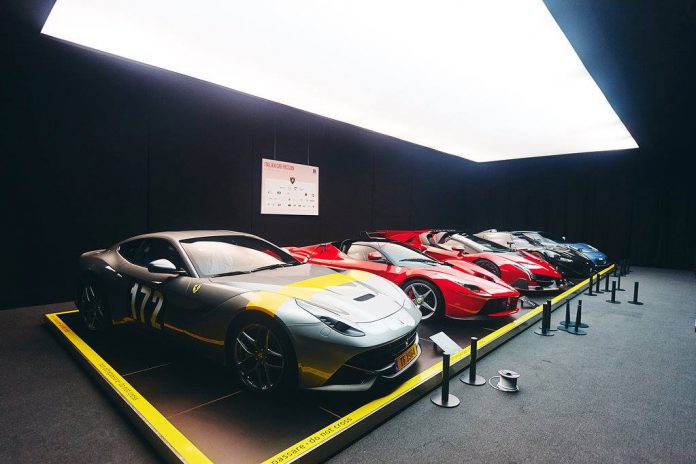 For the occasion the Brussels Autoworld museum was staged to look like a traditional Italian town, featuring picturesque streets and of course a central Piazza. The Piazza is the exhibition's heart in terms of display, where the spotlight is shining on the 1952 Alfa Romeo Disco Volante which is their on courtesy of the Turin automobile museum. Additionally we can find the actual Disco Volante designed by Touring Superleggera and the 1967 Lamborghini Miura designed by Gandini respectively.
At the centre of the plaza, we can find the Pininfarina Ferrari 275 GTS, the Fiat Zagato V8 built in 1952, a Bizzarrini 5300 GT Strada from 1964, a De Tomaso Mangusta Bertone from the 1960's, an Iso Rivolta Grifo Giugiaro (1963), the Lancia B24 Spyder Pininfarina and an additional 20 cars are parked up at the centre square of the exhibition.
Italian Car Passion Exhibition 2015
Furthermore the Italian Car Passion exhibition at Brussel's Autoworld museum features a Concorso d' Eleganza displaying work by some of the greatest car designers from the 1950's such as Bertone, Vignale, Ghia, Touring and Pininfarina. We can also find a stage dedicated to the Competizione theme, displaying the magical Ferrari 250 SWB among many others. Finally there is the modern themed showroom, exposing a legion of the world's current super- and hypercars. In the showroom we can find a Ferrari LaFerrari, Lamborghini Veneno Roadster, Maserati MC12 GT1, Bugatti EB110 and many more.
Finally Lamborghini has its own separate space called the 'The Lambo Legend'. It brings you back to the first model of Lamborghini in 1964 and gradually accompanies you to the latest models such as the Gallardo, Murcielago, Aventador and Huracán. In total there are more than 40 dream cars waiting for you at Autoworld Brussels as of this moment, which is definitely worth a visit!