Lotus recently introduced the Elise Sport and Elise Sport 220 – the latest and lightest versions of the world famous Elise. Now the Norwhich, UK-based automaker has applied the 'Sport' moniker to the Exige as well, creating the fastest and lightest Exige ever, the Exige Sport 350.
2016 Lotus Exige Sport 350
With the Exige Sport 350, Lotus has managed to strip even more weight out of the already lightweight model. Tipping the scales at just 1125 kg, Lotus found 51kg of mass to remove from the car by implementing a louvered tailgate panel, a lighter battery, lightweight engine mounts, a lightweight centre console and HVAC pipework and optimized sound insulation.
The Exige's 3.5-liter supercharged V6 remains unaltered in the Exige Sport 350, producing 345 horsepower and 295 lb-ft of torque. However thanks to the car's lighter overall mass, the Exige Sport 350 accelerates from 0-60 mph in 3.7 seconds and will reach a top speed of 170 mph. The engine may be coupled with either a manual or automatic transmission, the latter of which will add 5.4 kg to the overall kerb weight.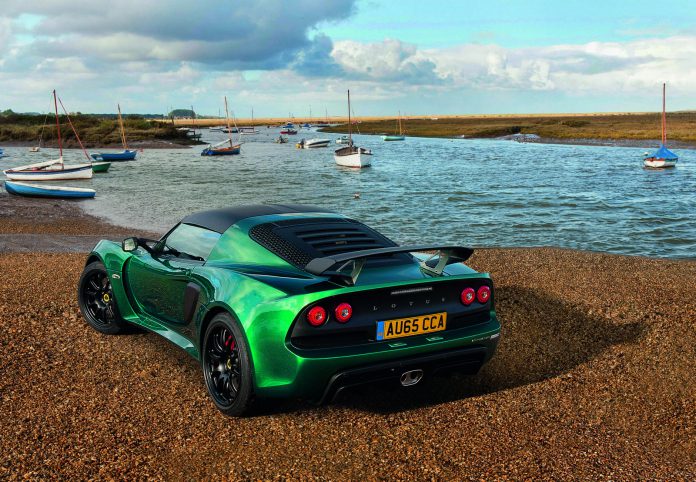 Also new on the Exige Sport 350 are new trim packages giving the cabin of the car a heritage theme. Sport seats trimmed in yellow or red Tartan plaid hark back to the 1976 Lotus Eprit S1, which also made a bold statement with a plaid interior. Other options include lightweight forged alloys wheels, cross-drilled and vented brakes with four-piston calipers, air conditioning, in-car entertainment and a full carpet and sound insulation package.
The Lotus Exige Sport 350 will go on sale in Europe in February of 2016 for €74,000
and will be available in other regions outside Europe (excluding North America) from March 2016. A roadster variant will also arrive in March 2016, Lotus says.