In a city with thousands of restaurants, more than 65 of which are brandished with Michelin Stars, choosing a venue to treat yourself is not as easy as it may seem. Apparently there is such thing as too much choice. Even if you manage to agree on a specific cuisine in a single square mile with your fellow diners, there are still dozens of eateries to choose from. In a world where #FoodPorn has been used 75 millions times on Instagram and a 14 year-old-boy can write a review on a mobile device on his way to school, is there really a way to know that the restaurant you are visiting for the first time will meet expectations?
From past experience, restaurants housed within hotels very rarely disappoint as they need to reflect and replicate the opulence and luxury of the establishments that they are indigenous to. When it comes to quality, very few are able to surpass the impeccable standards of Four Seasons Hotels. Having stayed in a number of the Canadian chains properties, from Istanbul to the exceptional Four Seasons Resort Maldives at Kuda Huraa, we know first hand how the Four Seasons settles for nothing but the best. As a result, it is fair to say that we were excited to visit the Four Seasons Park Lane to dine at Amaranto, an Italian restaurant that was born as part of a £125 million refurbishment of the hotel. We headed to Park Lane suitably attired with vivacious company to see if Amaranto could match the refinement of the Four Seasons.
Amaranto Restaurant - Four Seasons Hotel London
£125million is no small change that you dig out from behind the sofa, the results of such considerable investment are clear to see. The hotel is fantastically located and the lobby pays testament to the attention to detail that the company applies to ensure the calm and relaxed atmosphere of each property is globally replicated down to the tee. The atmosphere carries into the Amaranto Bar where the lighting is dimmer, each inviting sofa is illuminated in its own puddle of soft light in contrast to the brightly lit walls housing hundreds of the finest bottles.
The feel is not what you would necessarily associate with an Italian restaurant, but more to a far-eastern bar where the lights are dim and the tables sit low to the ground. Being seated and met with one of the most extensive and wide ranging drinks menus we have seen quickly had us excited once again. The choice of cocktails and almost any drink you could think of was incredible including wild mixes such as an Old Fashioned with popcorn and bacon. There were a few other concoctions that certainly caught our attention such as the mixologists take on the classic Manhattan that feature bitters that have been aged for several months. After a cocktail and a fresh berry mix we moved through to the main dining area and into a brighter environment.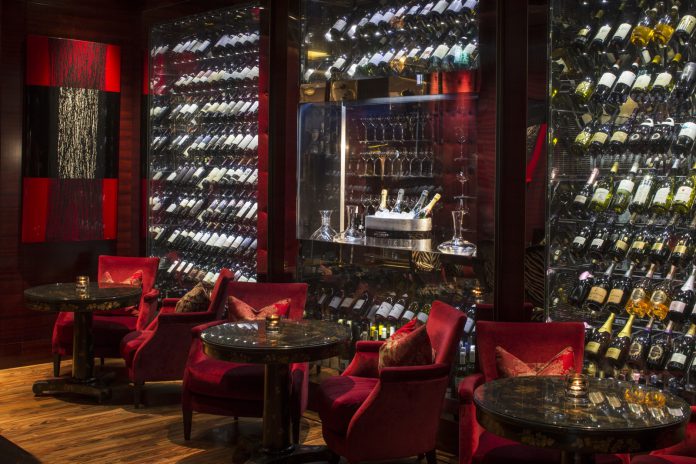 We noticed that the majority of guests in the bar were in quiet business meetings hunched over Macs displaying puzzling spreadsheets and posh powerpoints. As we entered the main dining area the populated tables were once again sat at by diners with corporate attire, by no means a bad thing, but it accentuated the rather mismatched and professional atmosphere. As the evening progressed, the casual diners and the well-heeled began to outweigh those pitching business propositions and it began to feel a lot more relaxed as our starters arrived.
Buffalo Mozzarella is always a yardstick of quality and we were presented with a generous portion of the cheese wrapped in crispy Parma Ham, complemented with bell peppers and basil. The oil was a little heavy on the pallet but on the whole the dish left us suitably satisfied. At the other end of the starter spectrum was Fregola Sarda, a Sicilian Pasta dish with braised baby octopus and clams, an interesting dish that brought together a spectrum of flavors, both starters impressed on the whole.
[youtube]https://youtu.be/YVNasKArir4?list=PL9AEBEC8C593CDDAE[/youtube]
The list of main courses was very impressive, a range of pastas, fish and meat dishes. What was more impressive was the choice of three seasonal white truffle dishes. The fish of the day, Salmon, was offered to be cooked in half a dozen different ways, a offer that was too tempting to refuse. Oven baked Salmon is a classic that can be done in a number of different ways. Amaranto played it a little safe but nailed the bake of the fish. It was supple and split along the natural contours of the fillet. Accompanied with fried Zucchini and seasonal vegetables, the dish did not disappoint. We also opted to taste the spinach stuffed ravioli, another classic, this time with the twist of almond Sauce and testun cheese, a strange combination but one that accomplished a truly unique and intriguing taste.
Picking dessert is often the most difficult decision to make, but Amaranto offer an option that we will think of for weeks to come. Sei Piccoli Peccati al Cioccolato (Six Little Sins) is a dessert that has been sent down by the chocolate devil himself. The six components alone would cause a riot at a Weight Watchers circle, coming together as a chocolate fondant and what can only be described as a ball of chocolate housing fresh berries and white chocolate ice cream which is then smouldered using a hot chocolate sauce. This dessert might just be one of the best chocolate desserts in the city.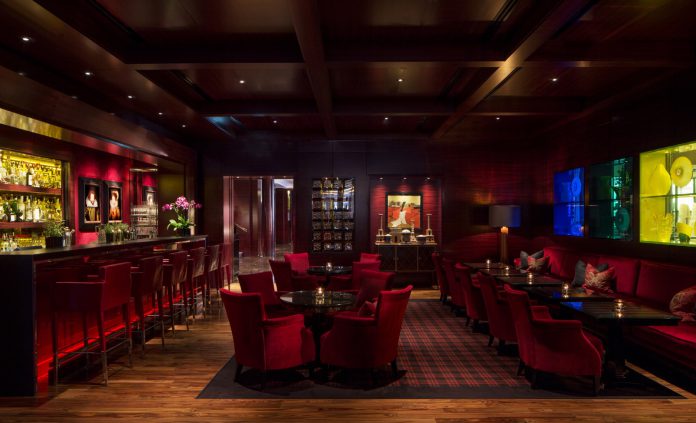 Concluding the experience of dining at Amaranto is not easy. Walking through the hotel lobby, under glistening chandeliers then into the moody bar and finally the dining room complete with plates on the walls, each with a single eye painted upon it, before feasting on a vast array of Italian food, borders on surreal. What the Four Seasons has achieved with Amaranto is something brave, but something that works brilliantly. It does not alienate any single demographic, from business professionals, couples celebrating anniversaries and casual diners, the appeal of Amaranto is undeniable, it is quirky, the service is impeccable and the food of a great standard. Amaranto sets itself apart from the thousands of restaurants in London, it sets itself apart from other hotel restaurants as well as any Italian restaurant we have visited, an impressive feat and one that is worthy of being accommodated in the Four Seasons Park Lane.