Petter Solberg scored his second consecutive FIA World Rallycross Championship yesterday during the season finale at Argentina RX. The Norwegian was in a neck-to-neck battle of points with Peugeot's Timmy Hansen in the last race of the year – Hansen's chances eloped away after a collision with his younger brother in the finals.
Scoring his first ever World RX win was Sweden's Robin Larsson who won the event after driving flawless throughout the weekend. Saturday's heats were postponed after the stewards deemed the track conditions as tricky. With all the heats' action concentrated on Sunday, there was little room left for mistakes. Larsson also won the Monster Energy Super Charge Award.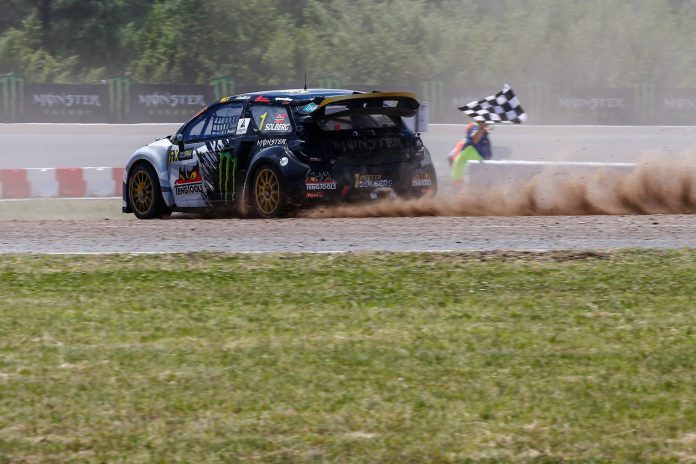 Mattias Ekstrom finished the event in second place while Solberg claimed the final spot on the podium. Solberg had acquired enough points to win the championship at the intermediate stage, the Norwegian went ahead to qualify for both semi-finals and the finals before finishing third overall.
Speaking about his second championship victory, the Norwegian said, "It's unbelievable to win another championship – and I want to thank my hard working team, who have travelled all round the world with me and share my passion for this fantastic sport. It is not easy winning your second World RX title: nothing in rallycross is certain and I have been a bag of nerves today."
FIA World Rallycross of Argentina 2015
The Hansen brothers had it going well up until the finals when the two made contact – an incident that denied them chances of a podium win. 17-year old Kevin Hansen finished fifth in his first ever race in a RX supercar leading his older brother Timmy Hansen who claimed sixth place overall. Timmy finished the season in second place on the standings leading VW driver Johan Kristoffersson and Ford driver Andreas Bakkerud.