Nico Rosberg has won the 2015 Formula 1 season finale at the Abu Dhabi GP today. The German who led from start to finish scored his 3rd consecutive win of the season and sixth Grand Prix win in 2015 following his victories in Spain, Monaco, Austria, Mexico and Brazil.
Lewis Hamilton claimed P2 giving Mercedes another 1-2 finish to end the season in a grand manner. Kimi Raikkonen took the final spot on the podium after a brave fight with teammate Sebastian Vettel who finished fourth – though it's worth mentioning that the German started the race from 15th place!
Formula 1 Abu Dhabi GP 2015 Results
| Driver | Team |
| --- | --- |
| 1. Nico Rosberg | Mercedes |
| 2. Lewis Hamilton | Mercedes |
| 3. Kimi Raikkonen | Ferrari |
| 4. Sebastian Vettel | Ferrari |
| 5. Sergio Perez | Force India |
| 6. Daniel Ricciardo | Red Bull |
| 7. Nico Hulkenberg | Force India |
| 8. Felipe Massa | Williams |
| 9. Romain Grosjean | Lotus |
| 10. Daniil Kvyat | Red Bull |
The rest of the top ten comprised of a well-deserving Sergio Perez in fifth, Daniel Ricciardo, Nico Hulkenberg, Felipe Massa, Romain Grosjean and Daniil Kvyat.
The Formula 1 season finale also coincided with the 44th Abu Dhabi national day making it an all important weekend for the locals and visitors. Hamilton won his second career title in this circuit last year and Rosberg was the only one standing in his way today.
The sun began to set and the drivers finally lined up for the last race of the 2015 season. Force India was a key team to watch with frontman Sergio Perez starting from fourth after a noteworthy performance during qualifying – his career best.
Soon after the lights went out, there was contact between Alonso's McLaren and Maldonado's Lotus. Rosberg managed to keep the lead while Hamilton contained both Raikkonen and Perez behind him. Maldonado suffered the most after the turn 1 clash but Alonso also dived back to the pits for a new front wing and a tire.
In the meantime, Vettel had moved up the grid from 15th place and was now running 12th. A new fastest lap by Rosberg extended his lead over Hamilton to 1.8s. Hulkenberg and Ricciardo were busy fighting for fifth with the Force India in the lead despite suffering understeer problems.
After the stewards finished investigating the first lap incident between Alonso and Maldonado, the McLaren was given a drive-through penalty for causing the clash. Vettel had now moved into the top 10 after taking out Verstappen. After the first round of pitstops, the order had changed a bit with Bottas now in P5 leading Vettel, Verstappen, Button, Grosjean and Perez.
In the pitlanes, an incident occurred when Bottas was released into Button's path resulting to a collision. The Williams joined the track with a broken front wing and had to come back right in for a new one.
At the front, Rosberg had increased his lead over Hamilton to 4.7s – the German was later called in for his first stop followed by Raikkonen. Hamilton and Vettel now held P1 and P2 respectively. Hamilton then pitted leaving the lead to Rosberg, he rejoined in P3 between Vettel – who was yet to pit – and Raikkonen.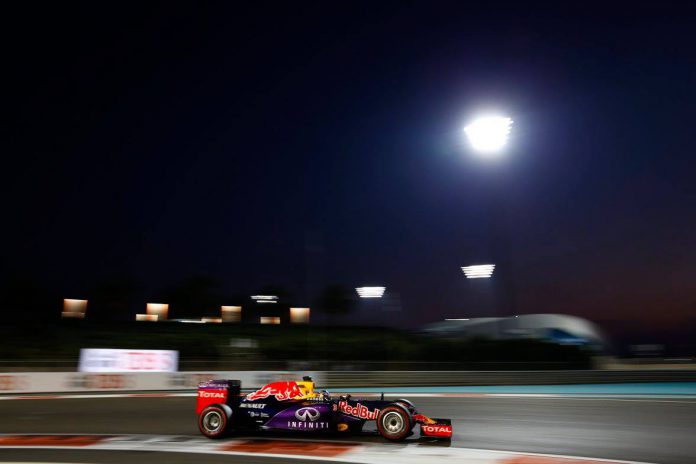 "I had my wheels a metre in the air, I landed on Maldonado!" a surprised Alonso cried in regard to his drive-through penalty. Bottas on the other hand was given a 5s time penalty for unsafe release.
After 14 laps, Rosberg led the field away from Vettel, Hamilton, Raikkonen, Perez, Grosjean, Ricciardo, Hulkenberg and Massa. Immediately after getting within the DRS range of Vettel, Hamilton made swift pass into P2 and back to chasing his teammate again. Raikkonen was also faster than Vettel forcing the German to allow him into third place.
While talking to the media, a retired Maldonado joked, "Imagine if it was the other way around – big news!" – referring to his collision with Alonso. Vettel and Grosjean finally pitted both picking a set of soft tires. The Lotus rejoined in 11th while the Ferrari rejoined in sixth behind Ricciardo.
At the top, Hamilton had managed to set a series of fastest times which helped him trim the gap between him and Rosberg to 2.4s. A few laps later the gap had fallen to 1.6s as Hamilton kept increasing his pace.
The second round of pitstops came around lap 28 with both Ricciardo and Perez pitting. Vettel jumped to P4 and also set a new fastest lap of the race on 1m46.078s. That was soon trimmed down to 1m45.892s by Perez who was currently in P5. Just when Hamilton was within the DRS range of Rosberg, the German was asked to box in leaving the lead to his teammate.
Raikkonen was also called in leaving P2 to Rosberg who had rejoined in third, Hamilton was yet to make his second stop and so did Vettel who was currently fourth. The gap between Hamilton and Rosberg was now 18s.
"He must really hate me, I don't know what's wrong with him," Vettel said after Alonso hesitated to move out of the way while being lapped by the Ferrari. "I'm losing one second just because of that."
After 40 laps into the race, Hamilton led the top ten from Rosberg, Raikkonen, Vettel, Perez, Ricciardo, Grosjean, Hulkenberg, Kvyat and Massa. But Vettel soon made his second stop and rejoined in sixth behind Ricciardo. Hamilton also pitted and rejoined 13s behind Rosberg while Vettel had managed to snatch P5 from Ricciardo.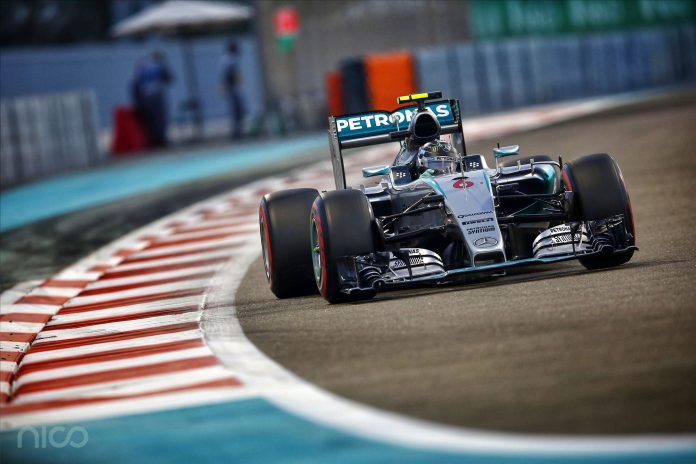 Vettel then breezed past Perez on lap 45 to take fourth place as the front runners began to approach traffic areas. It was Rosberg who suffered the most due to slow traffic which cost him 2s, trimming his lead over Hamilton to 8s.
Things were getting interesting between Verstappen and Button at the back of the field. The Toro Rosso had made an attempt to pass Button but went off track only to rejoin in front of the McLaren. Over the radio, the two drivers had different opinions; Verstappen said, "He pushed me off the track," while Button argued, "He overtook me off the track". The Stewards decided to investigate it.
In the final laps, Rosberg managed to maintain a steady lead over Hamilton who was also facing a bit of traffic. The German ended the season on high spirits to say the least.