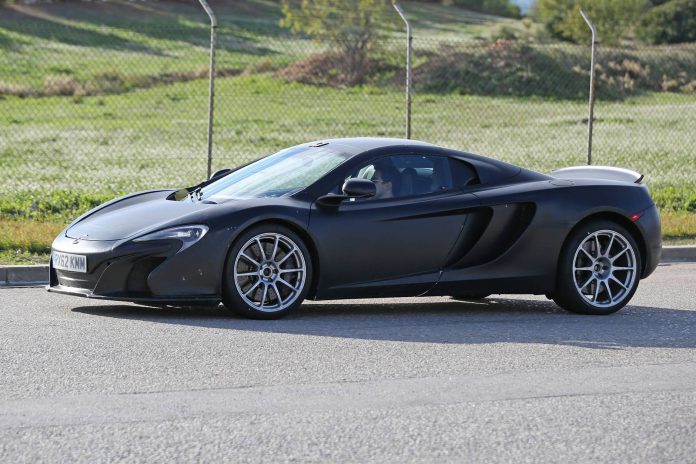 Given the demand for high performance convertibles, its only natural that McLaren should consider the 675LT for the Spider treatment. As an extension of the 12C platform, the McLaren 675LT is already perfectly engineered for the convertible conversion. A McLaren development mule has been spotted giving indications that the McLaren 675LT Spider is already under development.
The car in question wears the new 675LT front facia with the new front splitter and quad blades. As the rear retains the 12C's design, it is almost certain that this isn't simply an MSO specced customers car.
This particular car (or a very similar car wearing the same numberplate) has previously been spotted allegedly developing parts for the McLaren 570S at the Nurburgring. Although we suspect at that time it was actually developing components for the 650S. Unfortunately we haven't worked out where the car was spotted.
McLaren 675LT Spider Spy Shots
A McLaren 675LT Spider would probably use the same folding convertible roof as the 650S Spider and 12C Spider it follows. Simple maths dictates that on the 675LT Spider would weigh around 40kg more than the Coupe which currently weighs in at 1,320kg. The 675LT uses the standard 3.8 litre twin-turbocharged V8 with 666hp.
The 675LT Spider could join the Super Sport series. Also look out for the the 570S Spider planned for next year together with a hotter version of the 570S to follow thereafter. The 675LT Spider's closest rival will be the recently revealed Ferrari's 488 Spider, which offers 660 hp from a 3.9-litre twin-turbocharged V8 engine.