Nico Rosberg has won pole for tomorrow's Formula 1 Abu Dhabi GP – his sixth consecutive pole of the season! The German has been fastest all weekend after winning FP2, FP3 and Q3.
Hamilton qualified second behind his teammate leading Ferrari's Raikkonen, Force India's Sergio Perez, Red Bull's Daniel Ricciardo, Williams Valtteri Bottas, Force India's Nico Hulkenberg, Felipe Massa and Daniil Kvyat.
2015 Abu Dhabi GP Qualifying Results
| Driver | Team |
| --- | --- |
| 1. Nico Rosberg | Mercedes-AMG |
| 2. Lewis Hamilton | Mercedes-AMG |
| 3. Kimi Raikkonen | Ferrari |
| 4. Sergio Perez | Force India |
| 5. Daniel Ricciardo | Red Bull |
| 6. Valtteri Bottas | Williams F1 |
| 7. Nico Hulkenberg | Force India |
| 8. Felipe Massa | Williams F1 |
| 9. Daniil Kvyat | Red Bull |
| 10. Carlos Sainz | Toro Rosso |
Red Bull were the first to head out in Q1 led by Daniel Ricciardo followed by Ericsson, Massa, Merhi, Stevens and Kvyat. There was a mixture of tire sets on the field with Mercedes and Marussia picking supersoft while Red Bull and Sauber went out on softs.
Ricciardo set the pace on a 1m 43.401s flyer but Hamilton hammered it with a 1m40.974s – though both drivers were on different tires. Rosberg recorded his time too on 1m41.111s to slot in behind Hamilton. After a brief moment of runs, Raikkonen had settled in third ahead of Maldonado, Grosjean, Perez and Bottas.
Despite running on soft rubber, Raikkonen was only 1.5s adrift the Mercedes pair which was on supersoft tires. Ricciardo was forced to head back to the pits for supersoft tires as well – in the meantime, Vettel had managed to improve his rank by moving to P5 behind Maldonado. Raikkonen, Vettel and Bottas were the only drivers not using supersoft tires.
When the chequered flags flew, Hamilton led Rosberg and Perez in the top three followed by Hulkenberg, Ricciardo, Massa, Raikkonen, Kvyat, Button and Grosjean. Vettel was the biggest name to be eliminated joining Alonso, Ericsson, Stevens and Merhi.
Massa was the first to head out in Q2 on his used supersoft tires, he was followed by Hamilton on new supersoft while Nasr and Bottas joined in with used ones. Massa went ahead to set the initial pace on 1m42.362s. As per the rules, those who will qualify in the top 10 must start tomorrow's race on the same tires from their Q2's fastest laps.
Hamilton trimmed Massa's time with a 1m40.758s flyer lap before Rosberg replied with a slightly slower lap to slot in second. Ricciardo's time placed him in third ahead of Hulkenberg, Perez, Massa, Verstappen, Bottas and Sainz. Hulkenberg was then asked to box his Force India due to a flat tire, Grosjean followed suit with an unknown problem in his Lotus.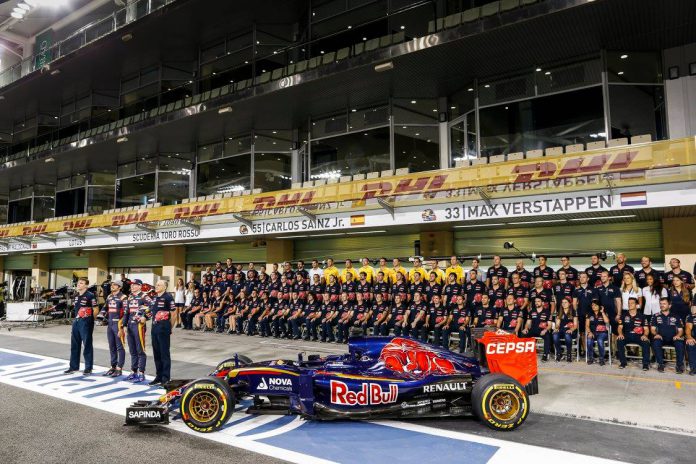 Raikkonen finally emerged on supersoft rubber while most of the field was in their respective pits and with only five minutes left into the session. A 1m41.612s flyer lap by Raikkonen placed him in third and pushed Ricciardo to fourth.
With the chequered flag flying, Sainz managed to slot into tenth by pushing Verstappen to the drop zone. Hamilton finished Q2 in the lead with Rosberg in second ahead of Perez, Raikkonen, Ricciardo, Bottas, Hulkenberg, Kvyat, Massa and Sainz. Verstappen was eliminated alongside Button, Maldonado, Grosjean and Nasr.
Force India did not waste any time in Q3 as both Perez and Hulkenberg jumped out first on new supersoft rubber. Perez set the initial pace on 1m41.184s, The Mercedes pair soon recorded their times with Rosberg emerging on top, Hamilton was second while Perez's initial pace secured him third place.
Rosberg's pace has been the fastest so far all weekend despite the outcome of Q1 and Q2. The drivers dived back into the pits to prepare for the final runs though Sainz was yet to set his Q3 time.
After the final runs, the order never changed that much. Hamilton snatched the lead briefly from Rosberg but the German went faster and regained the lead to eventually win pole for the 2015 Formula 1 Abu Dhabi GP. Perez was another star of the weekend after securing P4 for the main race tomorrow – this was a career best for the Force India driver.
Free Practice Report
The first free practice session on Friday afternoon proved to be a challenge for most drivers – Alonso complained of loss of power in his McLaren-Honda car while Lotus Jolyon Palmer missed nearly the whole session due to a water leak.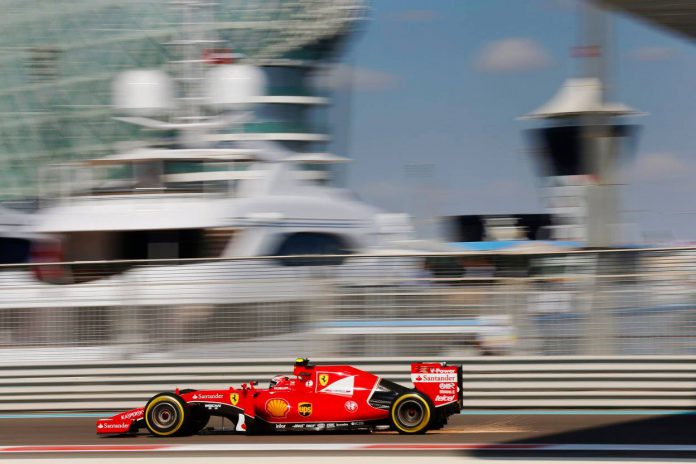 Nonetheless, the action was not affected as the two Mercedes cars of Hamilton and Rosberg went ahead to set the fastest times, Hamilton edged out his teammate by only 0.141s. Rosberg headed Kimi Raikkonen who finished third for Ferrari. Red Bull's Daniil Kvyat upped the fight to finish fourth after splitting the two Ferraris. Sebastian Vettel then rounded off the top 5.
The lower top 10 comprised of Force India's Nico Hulkenberg, Daniel Ricciardo, Sergio Perez, Pastor Maldonado and Williams Felipe Massa.
In FP2, Rosberg responded by setting the fastest time of the session on 1:41.983. Hamilton had set the initial pace but after switching to super soft tires, Rosberg managed to go even faster and eventually topped the session.
Hamilton finished in P2 leading Sergio Perez, Daniel Ricciardo and the best placed Ferrari of Sebastian Vettel in fifth. Kvyat led the lower top ten followed by Raikkonen, Hulkenberg, McLaren's Alonso and Maldonado.
On Saturday afternoon during FP3, most drivers were pushing hard despite some complaining of over steering problems. Hamilton and Vettel were the initial fast drivers on the field – the Brit was fastest while running on soft tires but soon as the field began to switch to supersoft, Rosberg managed to edge them all out.
Rosberg's time of 1:41.856 ended the session on top confirming the German's fast pace of the weekend which helped him win two out of three free practice sessions. Vettel finished third leading a very fast Perez while Raikkonen only managed a fifth place. Ricciardo, Hulkenberg, Massa, Valtteri Bottas and Carlos Sainz completed the top ten.