Porsche dominated the 2015 FIA World Endurance Championship season finale at the 6 Hours of Bahrain by winning the overall driver's title as well as the manufacturer's GT title.
The team of Mark Webber, Brendon Hartley and Timo Bernhard claimed the WEC Driver's title despite finishing fifth after suffering technical problems with the #17 Porsche 919 Hybrid. They recorded four consecutive wins at Nürburgring, COTA, Fuji and the recent Shanghai before the glitch at Bahrain.
| Car | Drivers | Class |
| --- | --- | --- |
| P1: #18 Porsche 919 Hybrid | Romain DUMAS, Neel JANI, Marc LIEB | LMP1 |
| P2: #7 Audi R18 e-tron | Marcel FÄSSLER, André LOTTERER, Benoît TRÉLUYER | LMP1 |
| P3: #2 Toyota TS 040 | Alexander WURZ, Stéphane SARRAZIN, Mike CONWAY | LMP1 |
| P1: #26 Ligier JS P2 - Nissan | Roman RUSINOV, Julien CANAL, Sam BIRD | LMP2 |
| P2: #47 Oreca 05 - Nissan | Matthew HOWSON, Richard BRADLEY, Nick TANDY | LMP2 |
| P3: #28 Ligier JS P2 - Nissan | Gustavo YACAMAN, Luis Felipe DERANI, Ricardo GONZALEZ | LMP2 |
| P1: #92 Porsche 911 RSR | Patrick PILET, Frédéric MAKOWIECKI | GTE Pro |
| P2: #51 Ferrari 458 GTE | Gianmaria BRUNI, Toni VILANDER | GTE Pro |
| P3: #97 Aston Martin V8 | Darren TURNER, Jonathan ADAM | GTE Pro |
| P1: #98 Aston Martin V8 | Paul DALLA LANA, Pedro LAMY, Mathias LAUDA | GTE Am |
| P2: #88 Porsche 911 RSR | Marco MAPELLI, Khaled AL QUBAISI, Klaus BACHLER | GTE Am |
| P3: #77 Porsche 911 RSR | Christian RIED, Patrick LONG, Marco SEEFRIED | GTE Am |
In the GT category, Porsche claimed the manufacturer's title for GTE Pro while Richard Lietz and Michael Christensen in the #91 Porsche 911 RSR won the driver's title in this category allowing Porsche to take home both titles. Ferrari has won the title three times but had to settle for second place this year.
Nonetheless, the Italian manufacturer was lucky enough to win the GTE Am title with the no72 SMP Racing Ferrari 458 Italia driven by Andrea Bertolini, Aleksey Basov and Victor Shaytar.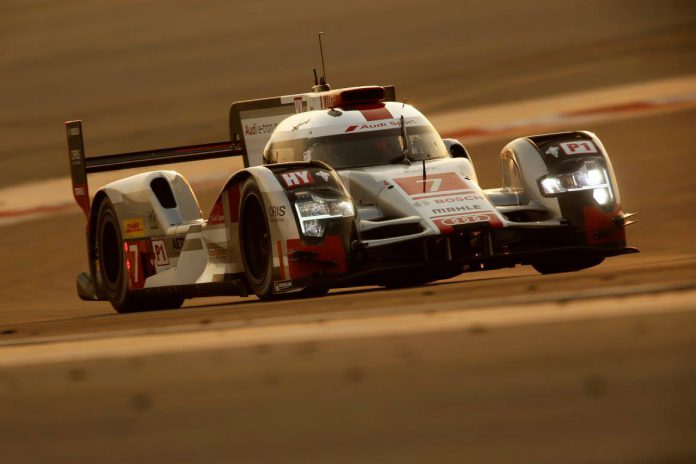 The 6 Hours of Bahrain proved to be more challenging for most drivers starting with the #17 Porsche 919 who had lost 8 laps while fixing their technical issue. Webber finished the race in hybrid mode after losing mechanical power in the car – the fifth place finish was good enough to secure them the 2015 WEC driver's title.
The #18 sister car of Neel Jani, Marc Lieb and Romain Dumas won the race ahead of the #7 Audi R18 e-tron quattro of André Lotterer, Marcel Fässler and Benoit Tréluyer. The #2 Toyota TS 040 Hybrid managed to enter the podium this time round by finishing third while leading the #1 sister car in fourth. The #8 Audi R18 had led in the early hours but dropped out with a brake disc problem before finishing sixth eventually.
The #26 G-Drive Ligier JS P2 Nissan piloted by Sam Bird, Roman Rusinov and Julien Canal claimed both the driver's and team's title in LMP2 as well as the 6 Hours of Bahrain win.
The #92 Porsche Team Manthey 911 RSR of Frederic Makowiecki and Patrick Pilet claimed their first victory of the season by finishing first in GTE Pro class leading the #51 Ferrari 458 GTE of Toni Vilander and Gimmi Bruni. Third place went to the #97 Aston Martin V8 of Darren Turner and Jonathan Adams.
In GTE Am class, the #98 Aston Martin V8 of Paul Dalla Lana, Mathias Lauda and Pedro Lamy repeated their Silverstone win by finishing first in the final race of the year. They shared the podium with two Porsche 911 RSRs – the #88 and #77 in P2 and P3 respectively.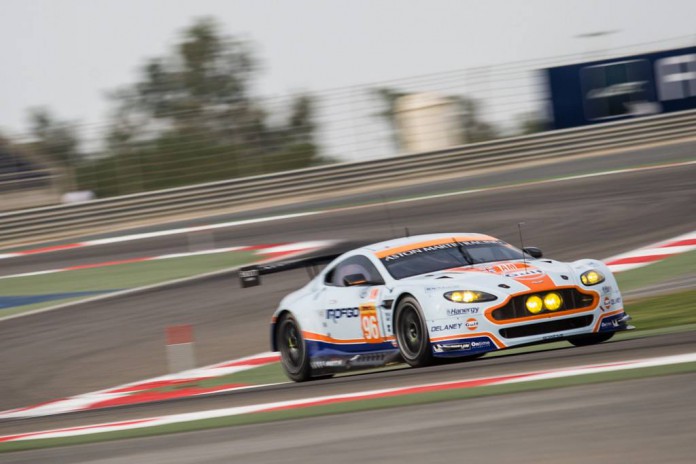 The season will be sealed with a trophy ceremony later today.