While the 2016 Ford GT GTE will soon make its racing debut at Daytona in early January, one example is currently being displayed at the Los Angeles Auto Show 2015. While it's based around the latest-generation GT road car, the advanced new aerodynamic components of the GTE ensure it can't be confused with the standard model.
As the name of the Ford GT GTE implies, it will compete in the GTE-Pro category. Ford Performance claims that the new racer will bring smart innovations to GTE-Pro once it starts competing. Among those innovations include new aerodynamics that ensure maximum downforce with minimal drag and efficient stability. The car also features an exceptionally light chassis thanks to the new lightweight composites and carbon fibre.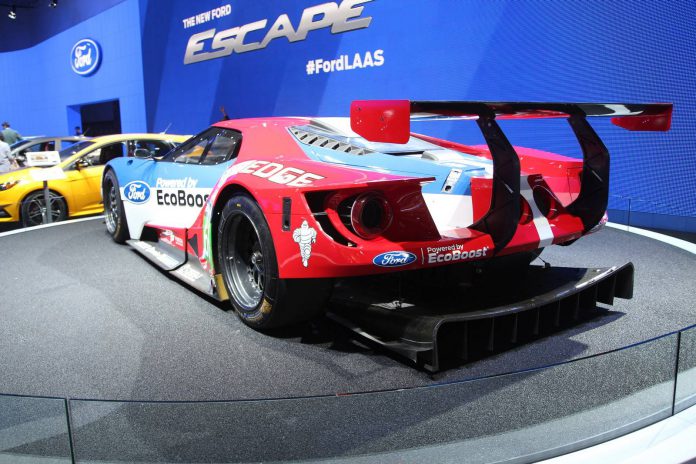 Throughout next year, the car will compete in both the IMSA Sportscar Championship as well as the FIA World Endurance Championship. While its U.S. debut will take place in January, it won't race in Europe until April at the 6 Hours of Silverstone. The GT's racing highlight next year will of course come at the 24 Hours of Le Mans where it will return 50 years after its famous victory at the endurance race.
Technical details about the car aren't known other than the fact that it has the same twin-turbocharged 3.0-litre V6 engine of the road car but is likely to be detuned.
For more about the 2016 Ford GT GTE, see our previous post. For more from the Los Angeles Auto Show 2015, see our dedicated news channel.
2017 Ford GT Racer at LA Auto Show