The 2016 Fiat 124 Spider is celebrating its world debut at the Los Angeles Auto Show 2015. Based around the Mazda MX-5, the new 124 Spider is unlike any other car in the current Fiat range and thanks to its sleek design, looks undeniably Italian. We checked it out live.
Power for the Fiat 124 Spider is provided exclusively through a 1.4-litre MultiAir turbocharged engine that pumps out a total of 140 hp and 240 Nm of torque. That engine is mated to a six-speed manual transmission driving the rear wheels. Fiat claims that it has positioned the engine in such a way that it improves the weight distribution and therefore results in better handling.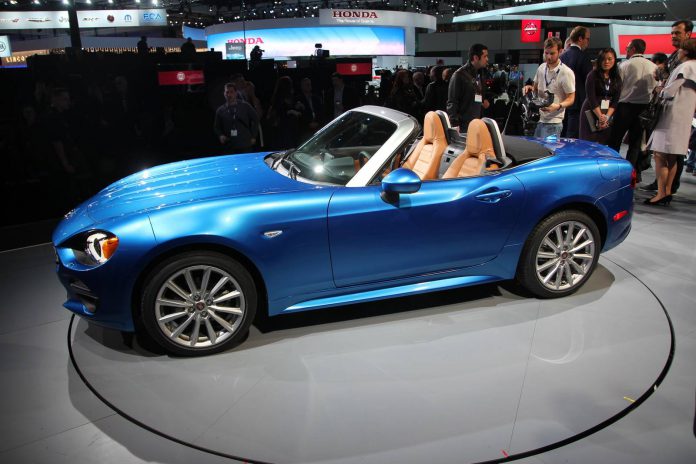 The body of the Fiat 124 Spider is made from aluminium and high-tensile steel with straight beams providing most of the vehicle's strength. There are also front sub-frame and rear cross members connecting to these straight beams. Aluminium has been used for the bonnet, boot lid, bulkhead panel, underbody cross-member, front and rear bumper reinforcements and the seatback bars.
For more about the Fiat 124 Spider, see our previous post. For more from the Los Angeles Auto Show 2015, see our dedicated news channel.
Fiat 124 Spider at LA Auto Show 2015