Following the introduction of the Spyder earlier this year, Lamborghini have chosen the Los Angeles Auto Show 2015 to unveil the Lamborghini Huracan LP580-2. The LP580-2 is the two-wheel drive version of the Huracan and follows on from the success of the two-wheel drive Gallardo.
The advantage to the two-wheel drive Huracan is of course the rear-wheel drive platform. In the Huracan, the deletion of the all-wheel drive system allows a dry weight advantage of 33 kg over the standard car. It gets a reduction in power of 30 hp which contributes to a 0.6 second slower 100 km/h time.
The overall figures are therefore 1,389 kg of dry weight, a 5.2 litre V10 powerplant and a total power output of 580 hp. 75% of torque is made available at 1,000 rpm. Weight balance is 40% at the front and 60% at the rear for that authentic rear wheel drive feel.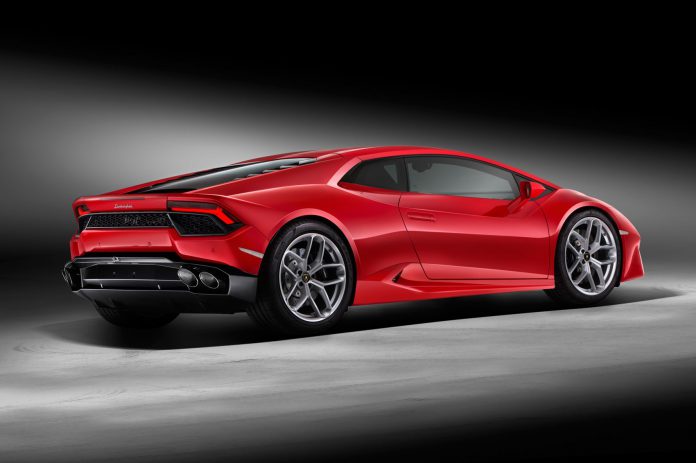 Suspension is new with a new setup for springs and anti-roll bars on double wishbone suspension. Torsional stiffness of the Huracan LP 580-2 is improved by 50% compared to the Gallardo LP 550-2. No word of a manual gearbox, instead the LP580-2 gets a Lamborghini Doppia Frizione (LDF) seven-speed dual clutch.
The Lamborghini Huracan LP580-2 isn't just a one trick bull though. You will have noticed the revised front facia which combines with a revised rear facia. The front air intakes are new, the rear gets a new spoiler lip and a rising diffuser to improve airflow. The Huracan does not use a movable rear spoiler. New 19″ Kari rims are shod with Pirelli PZero tyres.
Finally, the Lamborghini Infotainment System II is fitted to the LP580-2, with a 12.3″ high resolution TFT instrument panel. Pricing for the new Lamborghini Huracan LP580-2 is set at 150.000 Euros + taxes in Europe. Only the two-wheel drive Lamborghini Huracan LP 620-2 Super Trofeo is more powerful.