Supra Boats an American boat manufacturer has teamed up with Roush Performance to create a special edition boat that reflects the best from both companies. Supra Boats is owned by Tennessee-based firm Skier's Choice alongside Moomba – the latter focuses on high performance boats while Supra focuses on luxury and innovative creations.
Roush Performance on the hand is firmly positioned in the tuning industry focusing on high performance Ford vehicles such as the Mustang and Raptor. Their presence extends all the way to the motorsport scene where they field several cars in the drifting series.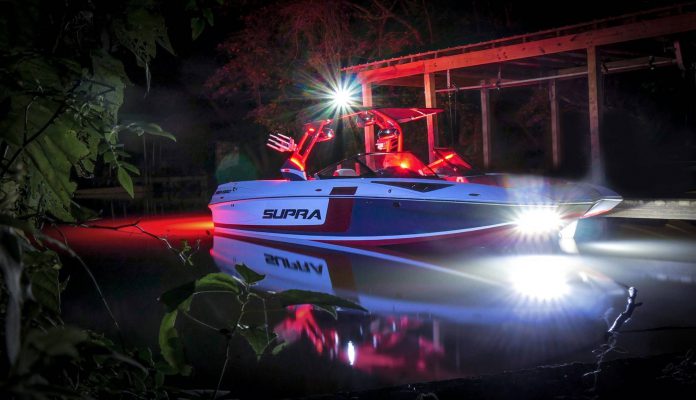 Dubbed the Supra SE Roush Edition, this new boat is purely powered by the 6.2 L Roush supercharged Raptor engine – the same engine found on the F-150 SVT Raptor albeit with more power. The result is a hefty 575 lb-ft of torque and over 500 hp.
This new 2016 Supra SE Roush Edition is based on the Supra SE line which is also the company's flagship model. It utilizes a Supra Competition hull and the proven Supra Swell Surf 2.0 which is widely used by competitors on the Supra Pro Wakesurf Tour.
With all that power onboard, the Supra launch system works even better resulting to less drag and increased acceleration. Plaining under load has also been made easier with this model. To protect the owner's cargo, the team fitted Billet PTM Board Racks made of aluminum.
The control panel features a Supra Vision Touch System that incorporates all useful features such as surf settings, GPS, stereo and more. There are additional controls on the steering wheel including camera, swell surf, stereo, Wake Plate and Cruise adjustments. The Vision Transom Camera provides a full rear view of the boat on the touchscreen.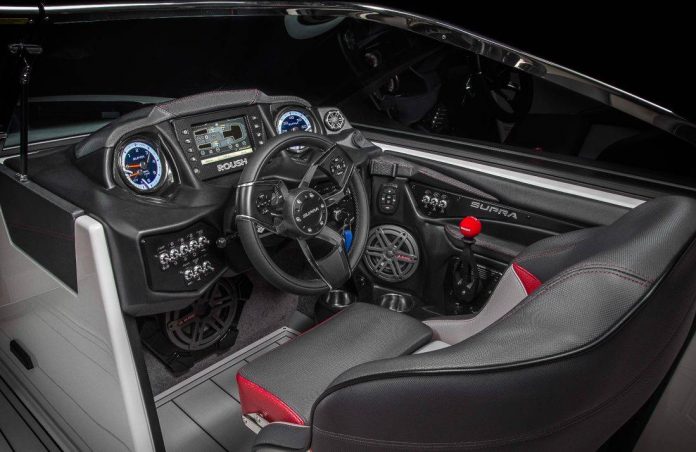 The exterior is finished in anodized black and red accents as well as a color-matched boat trailer. The interior features multiple Roush emblems embroidered on the seats and shifter. A complete JL Audio system was fitted inside comprising of four 8.8″ JL Towers speakers, 10″ JL Audio Sub and amps and 6.5″ JL Speakers.