Nico Rosberg has won his second Brazilian GP in a row today at Interlagos after dominating the entire race from start to finish. Hamilton's efforts to claim his first win in Brazil failed despite numerous efforts and strategies, the Brit finished second to make it 1-2 for Mercedes-AMG.
The Ferrari pair of Vettel and Raikkonen claimed P3 and P4 respectively leading Williams' Bottas, Force India's Hulkenberg, Red Bull's Kvyat, Felipe Massa, Grosjean and Verstappen who fought really hard to finish in the top ten.
| Driver | Team |
| --- | --- |
| 1. Nico Rosberg | Mercedes-AMG |
| 2. Lewis Hamilton | Mercedes-AMG |
| 3. Sebastian Vettel | Ferrari |
| 4. Kimi Raikkonen | Ferrari |
| 5. Valtteri Bottas | Williams F1 |
| 6. Nico Hulkenberg | Force India |
| 7. Daniil Kvyat | Red Bull |
| 8. Felipe Massa | Williams F1 |
| 9. Romain Grosjean | Lotus |
| Max Verstappen | Toro Rosso |
Carlos Sainz started from the pitlanes while Alonso and Ricciardo started from the back row after acquiring new engines for this round. Interestingly, Hamilton has never won a Brazilian Grand Prix, Rosberg on the other hand was eyeing for a repeat of his 2014 win to join the likes of Ayrton Senna, Mark Webber, Felipe Massa and Sebastian Vettel all with two wins. Alain Prost has the most Brazilian GP wins at six while McLaren leads the constructors with 12 wins.
There were two DRS zones – the first one was located at turn 2 while the second one appeared after turn 3. After the formation lap, Rosberg managed to hold his lead from Hamilton who slotted into P2 ahead of the two Ferraris of Vettel and Raikkonen. The yellow flags came out after the first lap when Sainz's car stopped on the track.
In the meantime, Ricciardo had moved up the field from 19th to 14th place. The top order after the Mercedes and Ferrari cars was led by Bottas in fifth followed by Kvyat, Hulkenberg, Massa, Perez and Verstappen.
Rosberg managed to set a number of fastest laps in the early laps to stabilize his lead over Hamilton who was equally fast. The Ferraris were no where near the leading Mercedes cars – a gap of 4s and 6s separated them from Rosberg.
Hulkenberg was the first among the frontrunners to pit on lap 11 picking up a set of medium tires, Massa was also called in and was later joined by Kvyat, Grosjean and Perez. Bottas pitted from P5 to take a set of medium tires as well, followed by Verstappen and soon the Ferraris led by Raikkonen.
In that same pit window, Mercedes boxed Rosberg first leaving the lead to Hamilton, Vettel was quick to follow the German into the pits. Moments later Hamilton pitted and rejoined behind Rosberg and ahead of Vettel. A 1m16.025s lap by Rosberg became the fastest of the race aiding him to edge away from Hamilton.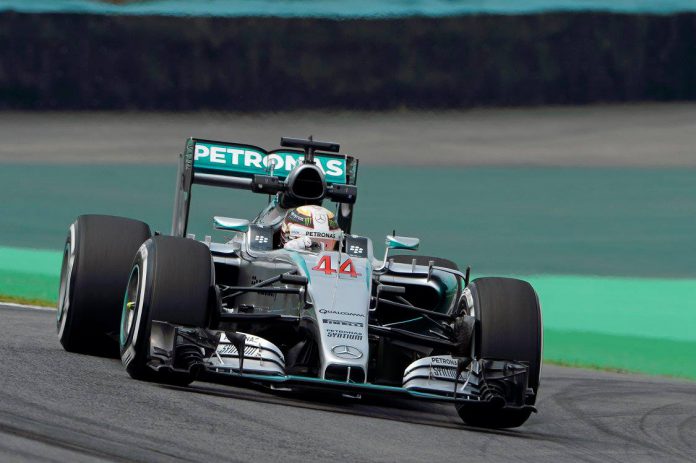 "The ****ing Manors are not moving out of the way," yelled Raikkonen who was currently running in P4. Hamilton on the other hand was not letting Rosberg out of his sight, he even began to worry about the tires due to the intense pace between him and his teammate. That said, the Brit began to ease a bit allowing the gap to increase by 1s.
"Can you get me on a different strategy? I'm faster but I can't get close." asked Hamilton over the radio. The response he got was, "The only option to protect the P2 or go for the win is to stretch this stint and go for a different tyre age at the end."
By lap 32, the Ferraris were clearly struggling to keep up with the Mercedes cars – Vettel was 10.7s off Rosberg and 6s off Hamilton who was also losing chunks of time to Rosberg. Vettel was the first to pit halfway into the race picking up a set of soft tires while Rosberg followed him albeit sticking on medium rubber.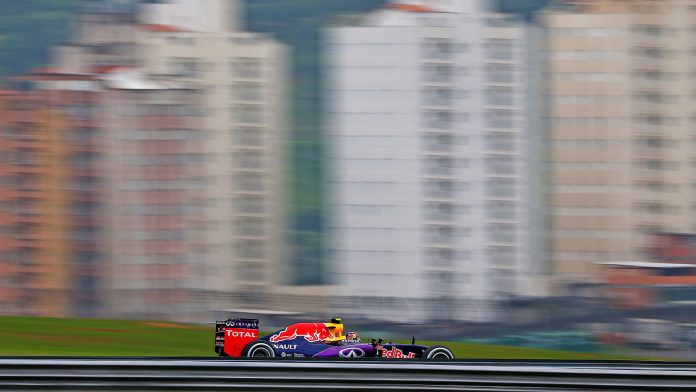 Vettel managed to set a new fastest lap of the race on 1m15.650s after picking soft tires. Hamilton pitted too and rejoined behind Rosberg who had regained P1, Raikkonen was now third although he was yet to pit for a second time. In the meantime, Hamilton had smashed Vettel's fastest lap with a new 1m15.350s.
After 45 laps, the gaps were stable between the top leaders. Rosberg led Hamilton with a 3s gap between them, Vettel led Raikkonen, Bottas, Hulkenberg, Kvyat, Massa and Grosjean to complete the top ten. Raikkonen then pitted for the second time, followed by Vettel and Rosberg.
Hamilton also pitted for the third time and rejoined behind Rosberg, the order remained unchanged for the top leaders. Rosberg went ahead to set a new fastest lap of the race on 1m15.149s though the gap between him and Hamilton had come down to 1.4s. Immediately after that stint, Hamilton replied with a new faster lap on 1m14.832s and trimmed the gap to 0.8s.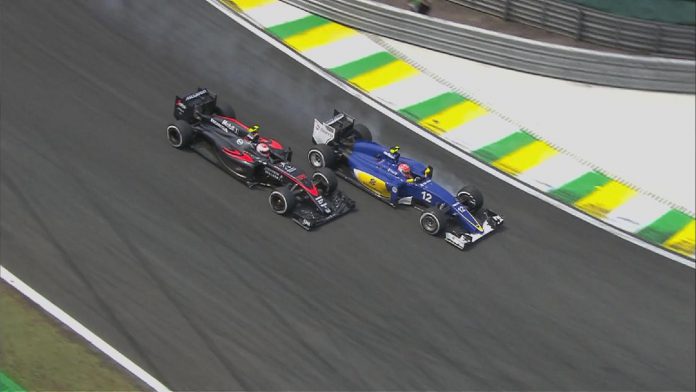 "Don't speak to me in the braking zone!" Button yelled on the radio as he came to pit on lap 53. Meanwhile, Hamilton had locked up while overtaking a Lotus and suffered damage to his floor.
And Button was not the only one fed up with team instructions, "Don't talk anymore." Rosberg cut short his team who were trying to manage his time.
With less than five laps left, Hamilton had fallen back behind Rosberg by over 5 seconds. The Ferrari pair was comfortably sitting in third and fourth with a 15s gap between them and the leaders. A win for Hamilton would have ended his streak of no-win at the Brazilian GP but Rosberg was too resilient.
Post Race Comments:
Rosberg: "I have been working hard all year, Lewis had the upper hand the whole season so I needed to turn it around. Two weeks' in Abu Dhabi – I want to go for the win again!"
Hamilton: "I just killed my tyres. It's such a shame – it's a great track, but you just can't get close enough to fight. I'm here to race, and when you both have to do the same order, it's kind of set from the beginning. I think that's what people want to see, but today it was relatively boring following in the tow. Nico has been driving fantastically well."
Vettel: "I think it was a good race for us. I was hoping we could do something at the start, but it wasn't possible. They were a bit quicker, but we were probably a bit closer than other years. Not very exciting, I didn't have anyone to fight with, but a good race."