The first road-legal Panoz Esperante GTR-1 is set to be displayed at the Dubai Motor Show 2015 next month. This will be the vehicle's first public appearance since undergoing a comprehensive six month restoration by Panoz itself.
In order to compete in the 1997 24 Hours of Le Mans, Panoz was required to built two road-going variants of the Esperante GTR-1 endurance racer and this is one of them. It is very similar to the race version and is therefore absolutely insane and assured to be one of the stand outs at the auto show.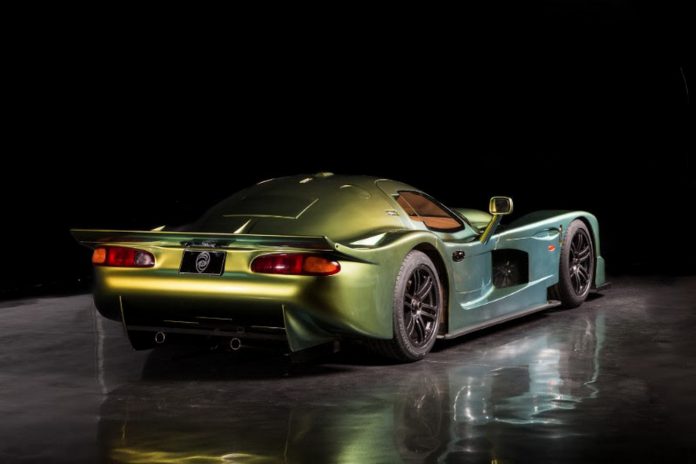 Powering the car is a 6.0-litre Ford V8 engine delivering in excess of 600 hp and 500 lb-ft of torque. While by modern supercar standards, those figures don't seem extraordinary, they become particularly eye-opening when you consider that the road-legal Panoz Esperante GTR-1 weighs a mere 898 kg. Additionally, all the power is funnelled to the rear wheels courtesy of a racing six-speed manual transmission from ZF.
As evidenced by the pictures, the car has been painted in an interesting shade of green which depending on the light and angle at which it is viewed, gives off hues of gold metallic. Inside, there are leather racing seats, a simple three-spoke steering wheel and brown alcantara throughout.
Alongside revealing the restored Esperate GTR-1, Panoz has announced that if customers are interested, it could create additional examples costing around $890,000.