Dodge has stormed into SEMA 2015 with a one-of-a-kind Challenger as well as a special performance-oriented variation of the Dodge Charger.
Starting with the Challenger, it has been dubbed the Dodge Challenger GT AWD Concept and as the name implies, feature an all-wheel drive system. Power is then provided by a 5.7-litre V8 engine pumping out an additional 75 hp and 44 lb-ft of torque over the standard V8. Power is funnelled through an eight-speed automatic transmission.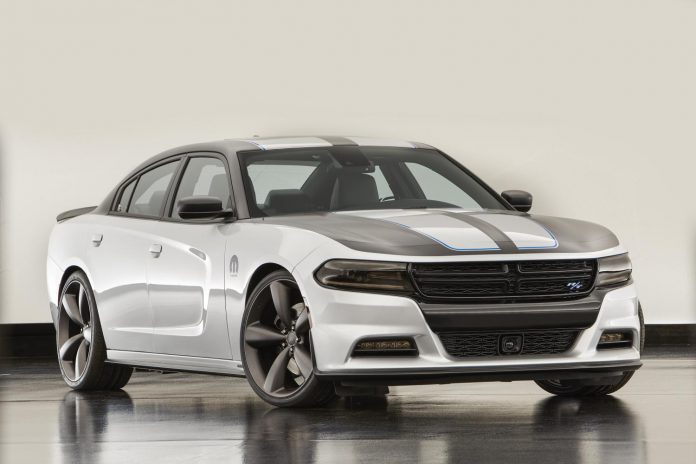 Elsewhere, the Challenger GT AWD Concept has a lowered suspension system as well as new Mopar performance front and rear strut tower braces. The car also has a bespoke look to it thanks to the Destroyer Grey body colour and Header Orange highlights. Some other key visual traits are the front splitter and rear spoiler, powder-coated satin black quad Mopar tailpipes, and 20-inch wheels with Mopar centre caps.
As for the Dodge Charger Deep Stage 3, it has also been installed with the Mopar Scat Pack 3 Kit also providing its V8 with 75 additional horsepower. It also features most of the special components of the Challenger except the all-wheel drive system. Unlike the Challenger however, it does receive a big brake kit courtesy of Mopar. It also makes do without the orange accents.
[showhide]
"Dodge Challenger GT AWD Concept
It's V-8 muscle with all-wheel drive. Yes, you read that right. The Dodge Challenger GT AWD Concept is a one-of-a-kind, year-round muscle car that lets you have your cake and eat it too, combining wickedly fast power and performance with the confidence of increased traction.
Mopar stepped outside its usual color palette in designing the Dodge Challenger GT AWD Concept, choosing Header Orange highlights to line the grille and taillight surround of the Destroyer Grey body. Header Orange continues as a distinct contrast point for the Destroyer Grey body color stripe that runs through the Matte Black paint blanketing the upper portion of the vehicle, from tip to rear. Mirror caps are also painted with Header Orange accent stripes.
The Challenger GT AWD Concept enhances its signature muscle car proportions, bulging out with Mopar's concept wide body kit and its massive wheel flares housing concept Mopar five-spoke wheels: 20-inch x 10-inch on the front and 20-inch x 11-inch on the rear. Mopar center caps are painted to match the body and wheels.
The body kit compliments Challenger's heritage-inspired styling, adding an aggressive profile with a front chin splitter and rear spoiler, which are both aesthetically pleasing and functional. Additional Mopar modifications dress up the rear, including quad Mopar exhaust tips painted in a powder-coated Satin Black, a Mopar fuel filler door painted Satin Black with a unique Mopar graphic and a concept Mopar Design decklid badge.
The interior takes cues from the exterior, with Header Orange stitching embellishing the rich Katzkin leather seats, center console, shifter boot and side panels. The Katzkin seats are also upgraded with medium taupe suede inserts. Additional control is gained for navigating tight corners with a flat-bottom steering wheel. Mopar door sill guards with the Challenger logo and a trunk mat round out the interior.
The vehicle's 5.7-liter HEMI® V-8 engine uses an AWD package to power all four wheels, paired with an eight-speed transmission. The 5.7-liter engine is upgraded with the Scat Pack 3 Performance Kit, which delivers a boost of up to 75 more horsepower and an additional 44 lb.-ft. of torque.
The Scat Pack 3 Performance Kit maximizes gains achieved by the Scat Pack 1 and Scat Pack 2 kits by adding new Mopar Performance CNC-ported cylinder heads, Mopar hi-flow manifolds and hi-flow catalysts, a gasket set, exhaust manifolds, exhaust adapter, mounting brackets, hardware and two Scat Pack 3 badges. The Scat Pack 3 kit — as with Scat Pack 1 and 2 — boosts performance while maintaining the factory warranty.
A concept Mopar suspension kit drops the Challenger GT AWD Concept closer to the road, lowering the vehicle's center of gravity for race-inspired handling, with an assist from production Mopar performance front and rear strut tower braces.
Dodge Charger Deep Stage 3
For the Dodge Charger Deep Stage 3, Mopar injected up to 75 additional horsepower with the Mopar Scat Pack 3 Kit and then for good measure bolted on a selection of production and concept Mopar products to create a completely original, performance-driven version of the world's only four-door muscle car.
The Silver Bullet exterior color is masked by full-length Matte Black paint covering the top of the vehicle. Body color comes through the Matte Black via center stripes bordered by Mopar Blue tracer accents. The styling, inspired by the second-generation Charger from the late 1960s, is modified with a concept Mopar body kit, including a front chin splitter, side sills, rear spoiler and unique rear valance, providing an aggressive look while augmenting aerodynamic characteristics.
In keeping with the Charger Deep Stage 3's name, it rolls on concept Mopar Dark Bronze 22-inch Classic III wheels, with color matched Mopar center caps. A concept Mopar decal flanks both front fenders, with Scat Pack 3 badges and a Mopar Design decklid badge displayed.
Heading inside, concept Katzkin leather seats boast such selections as a special R/T embroidery with a blue surround and the R/T logo centered in black to pick up on exterior cues, perforated Katzkin fog suede seat inserts and Mopar blue stitching on the armrests, steering wheel and seat inserts. Pulled from the Mopar catalog are door sill guards emblazoned with the Charger logo, premium carpet floor mats and a cargo mat carry metal Dodge badging.
Powered by the 5.7-liter HEMI engine, the Charger Deep Stage 3 is punched up in three phases by the trio of Mopar Scat Pack Performance kits. Mopar Scat Pack 1 and Scat Pack 2 upgrades, featuring a Mopar cold-air intake, Mopar cat-back exhaust, Mopar low-restriction oil filter, new Mopar Performance camshaft, a set of Mopar Performance valve springs, tie bars, upgraded pushrods and all the gaskets, are finished off with an up to 75 horsepower boost and 44 lb.-ft. of torque improvement of the Scat Pack 3 kit.
A Mopar coilover lowering kit enhances handling while providing a menacing appearance by bringing the Charger Deep Stage 3 closer to the street. Mopar Performance front and rear strut tower braces keep the tires in contact with the road. Reining in the car's horsepower is a job the Mopar Big Brake Kit is equipped to handle."
[/showhide]