Nico Rosberg won the 2015 Mexican Grand Prix after leading from start to finish. Lewis Hamilton made it a 1-2 for Mercedes after crossing the finish line in second leading Bottas, Kvyat, Ricciardo, Massa, Hulkenberg, Perez, Verstappen and Grosjean all in the top ten. Ferrari retired both cars today after Raikkonen suffered rear suspension damage while Vettel crashed out of the race.
This was the first Mexican GP since 1992, coming just a week after the most entertaining race of the season in Austin. Hamilton won the championship title back in Austin but the Brit is still in high spirits – he started from second place behind Rosberg who is eyeing on the runners up position in standings.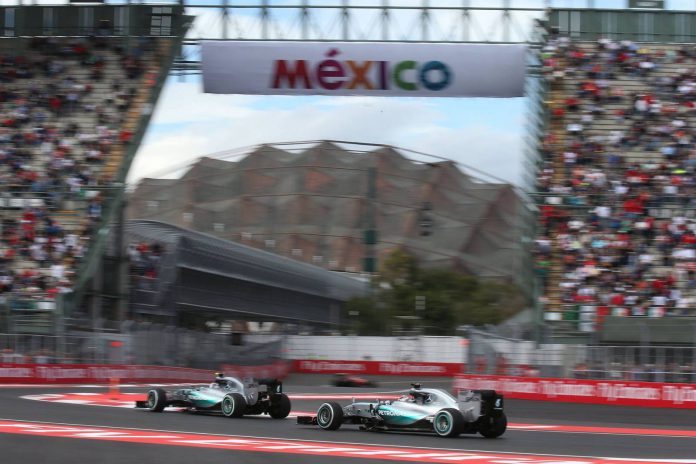 Vettel started from third place on the grid while Raikkonen started from 19th place due to a penalty he acquired after changing his gearbox and power unit components. The Autodromo Hermanos Rodriguez was packed to the brim with arguably the most vibrant crowd of the season!
Soon as the 2015 Mexican GP got underway, Rosberg and Hamilton avoided their usual 'first-corner' tussle with the German easing away from Hamilton in a perfect manner. Drama unfolded behind the Silver arrows when Kvyat and Ricciardo passed Vettel and the Red Bull made contact with the wheel of the Ferrari forcing Vettel to fall back in order with a puncture.
Meanwhile, Alonso's McLaren lost power and he was called in to retire before recording a time. Rosberg lead the race away from Hamilton, Kvyat, Ricciardo, Bottas, Verstappen, Massa, Perez, Hulkenberg and Sainz.
When DRS was enabled, Hamilton set a fastest lap of the race with only 1s separating him from Rosberg. Raikkonen was also moving up the field and was currently 15th before his team asked him to watch out as his brakes were getting too hot. After the investigation of the Vettel-Ricciardo incident, there was no further action taken.
By lap 12, Raikkonen had done a tremendous job by moving up to P8 behind Sainz and ahead of Grosjean's Lotus. In the meantime, Hamilton had already set another fastest lap of the race on 1m24.256s. The Mercedes cars were only separated by a 1.1s gap but Kvyat in P3 was 7s away.
Vettel managed to get his pace in order by passing Button for 11th place on lap 17, but the German spun a few seconds later dropping down to 15th place. At the front, Rosberg had extended his lead to nearly 3s with a new fastest lap. The front runners – Rosberg, Hamilton, Kvyat, Ricciardo, Verstappen and Raikkonen had not pitted yet by lap 22. Kvyat pitted in that same lap from third and rejoined in fifth ahead of Bottas.
While all that was happening, the yellow flags were brought out after Raikkonen and Bottas collided. The Williams managed to go on but the Ferrari suffered rear suspension damage forcing the Finn to retire.
"He just cut you up," said the Williams team in regard to the incident.
Rosberg pitted on lap 27 and rejoined in P2 behind Hamilton and ahead of Kvyat who had already acquired back P3 after his earlier stop. Hamilton was told to box in after Rosberg rejoined the race on faster prime tires. Meanwhile, the stewards made a decision not to take any further action on the Bottas-Raikkonen incident. Hamilton then rejoined the race behind Rosberg and the chase was on again.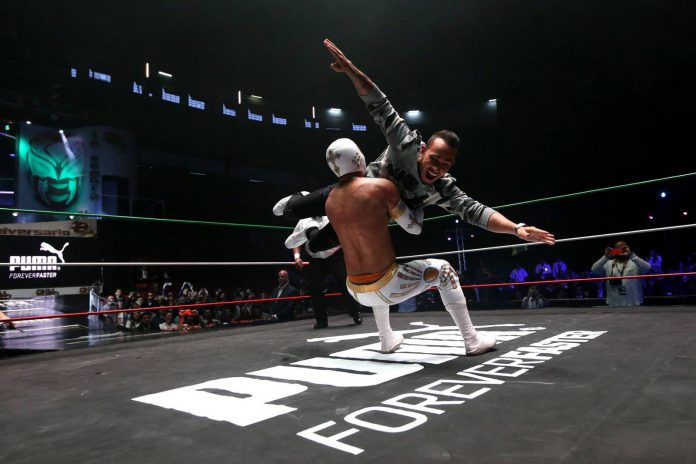 Vettel pitted again for a fresh set of medium tires but rejoined a lap down between the two Mercedes cars. Rosberg was called in for a second stop after Mercedes decided to convert into a two-stop strategy. The German made a quick stop enough to rejoin 0.1s behind Hamilton.
Hamilton followed suit and boxed for a fresh set of tires – behind them was Kvyat who was 30 seconds away thereby giving Mercedes plenty of time to play with. After the two stops, the gap between Hamilton and Rosberg was now 4.2s. Rosberg then set a new fastest lap on 1m21.367s moments after his team asked them to push hard to the finish. Hamilton then replied with a 1m20.853s to set a new fastest lap of the race.
The yellow flags were brought out again on lap 52 after Vettel crashed promoting the safety car to be deployed. It was over for Ferrari as both cars had now retired; Vettel's chances of beating Rosberg for the runner's up position in the standings had eloped away.
"I did a **** job today." said Vettel.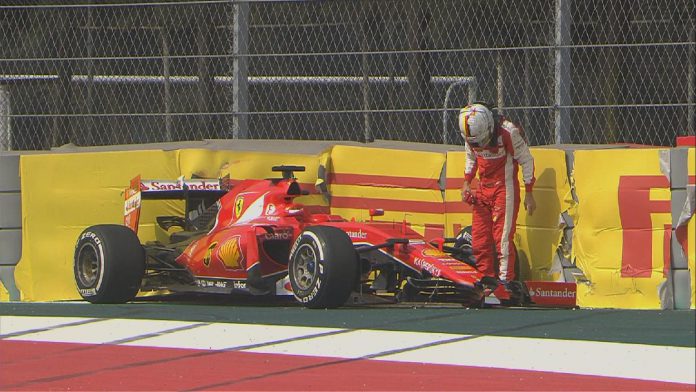 After restart, Rosberg went full throttle to retain his lead knowing well what his teammate was capable of. Bottas on the other hand breezed past Kvyat to take P3 from the Red Bull – Ricciardo was now in P4 ahead of Massa, Hulkenberg, Perez, Verstappen and Grosjean.
The race ended with Rosberg crossing the line first after leading from start to finish. The Mercedes cars managed to stay ahead of the field once again to score a 1-2 finish with Hamilton flashing across the line in second place.
The next round will head over to Brazil for the penultimate race of the season on November 15.