At the ongoing Tokyo Motor Show 2015, the Lexus LF-FC Concept has been introduced. Designed to provide us with a glimpse of the next-generation LS luxury sedan, the LF-FC Concept features an eye-catching design as well as some advanced technologies.
Powering the Lexus LF-LC is a high output fuel cell powertrain driving the rear wheels but at this stage, no specifications or performance figures have been revealed. What we do know is that the fuel cell is mated to two in-wheel motors that power the front wheels meaning the LF-FC is actually all-wheel drive. This drive system enables intelligent torque distribution across all four wheels to help improve the vehicle's handing. Additionally, the weight distribution has been optimised thanks to the power control unit being located at the front, the fuel-cell stack at the rear and the hydrogen fuel tanks in the centre of the concept.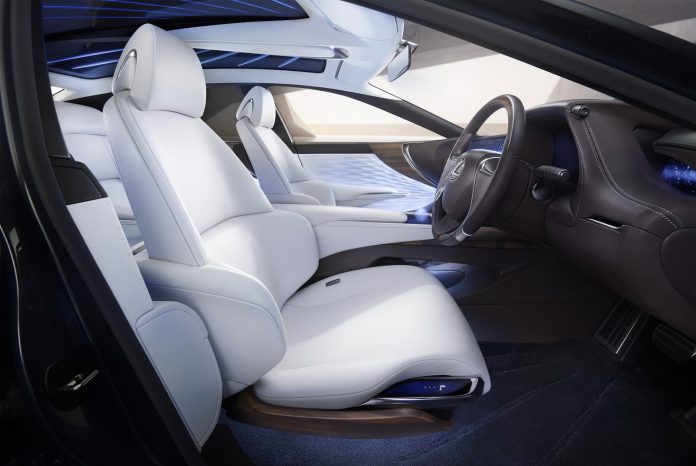 Additionally, the Lexus LF-FC has been installed with the Japanese marque's latest automated driving technologies including traffic environment recognition software, prediction and judgement.
All up, the LF-FC measures 208.7 inch in length, is 78.7 in wide and 55.6 in high and makes use of the firm's L-finesse styling language. Some of the key design elements including the prominent spindle grille with a polished chrome outer and black mesh. HID headlights have also been implemented and are similar in shape to those from existing Lexus models like the RC and NX. The LF-FC has also been installed with 21-inch wheels made from carbon fibre with aluminium spokes to reduce unsprung weight.
Inside, white and brown leather adorns the four bucket seats while there are also a selection of wooden and metal accents. The car has even been installed with gesture control technology and includes a floating holographic display showing users how to properly operate the audio and ventilation.