Small Middle Eastern car company Zarooq has just unveiled its potent off-roader dubbed the Sand Racer. While the car has been designed with a focus on tackling some of the world's toughest terrain, it is completely road legal.
The Zarooq Sand Racer has been designed in the United Arab Emirates by Anthony Jannarelly who also designed the Lykan Hypersport. Beneath the skin, the car features a performance steel chassis and the engine is centrally-mounted. That engine is a 3.5-litre V6 pumping out between 300 and 500 hp depending on specification.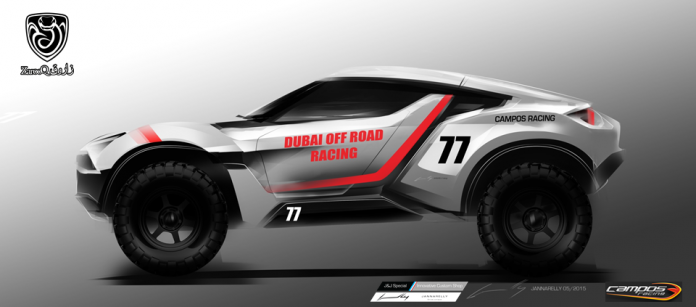 Alongside the impressive engine, the Sand Racer has been designed to be very light and therefore utilises a number of components produced from lightweight carbon fibre. All told, it tips the scales at a mere 950 kg.
Zarooq claims that the first deliveries will commence in early 2016 with pre-orders already open.
[showhide]
""The Zarooq Sand Racer is the first car specifically designed for the UAE desert," says Zarooq Director and former French racing champion Bruno Laffite. "The UAE are famous for amazing deserts, extreme safari motorsport and dune racing, but the performance of US and Japanese cars just wasn't good enough. So we decided to assemble a team to design and build the car we have all dreamed about, specifically made to race in the desert", says Zarooq director Mohammed Al Qadi, ex Senior Director Operations of YAs Marina Circuit.
The result is the Zarooq Sand Racer, a road legal production car capable of eating dunes with the power-to-weight ratio of a supercar and a stunning look.
The name was inspired by the Schockari Sand Racer, the fastest and most agile snake in the desert, in Emirati: Zarooq / زاروق . The car combines high performance with innovative features and an iconic look. It's a powerful racing car yet designed to be on the road as well, and tailored to the desert with a closed cockpit and air-conditioning.
The men behind the car are motorsport and business professionals
The three directors behind Zarooq have strong racing pedigrees. Mohammed Al Qadi is an Emirati who has organised national and international races in the UAE for 15 years, ranging from rallies to Formula One. Bruno Laffite, nephew of Jacques Lafitte, is the French pro driver who finished in the top 5 of Ford Formula, Renault Formula and Formula 3. Bruno was also a test driver in the US in the Indy Car Championship and raced Lamborghinis. Iannis Mardell, British and French with a strong strategy and business consulting background, is closely associated with the world's most famous Formula One racing school which produced more than thirty F1 pilots.
The car is modern, racy, aggressive and eye-catching
The Zarooq Sand Racer will stand out in the dunes and in off-road championships. It is manufactured in workshops in Dubai where it will be the first of a series of elite high performance cars.
"There's a huge demand today for a potent sand racer, tailored for our desert."
"You have big 4×4 which are bulky and you have buggies that are open and not the safest or most practical, or you have recreational ATV (all terrain) vehicles that are not initially made for racing."
"We have everything we need in the UAE to build the ultimate high performance desert racing car and make it an international success", says Mohammed Al Qadi
The Zarooq Sand Racer was designed in the UAE by Anthony Jannarelly, the man who designed the Lykan Hypersport, star car used in Fast and Furious 7, and is made in the UAE in partnership with JJ Special.
The high performance chassis was designed in cooperation with Campos Racing GP2 and winners of the Formula E world championship. The engine is central-rear mounted to ease dune crossing and the suspension travel guarantees balance when jumping. "We set out to build a racing car – nothing less!" says Bruno Laffite.
The interior, as performance oriented as you would expect from a true racing car, features stunning carbon fiber. Since the Zarooq Sand racer is handmade, many bespoke options are available in terms of performance, infotainment, equipment or car bodies.
Weight | 950 kg Suspension | 350-450 mm travel
Power | 300-500 hp Engine | 3.5l V6
A complete Off-road offer being built around the UAE sand
The team will also launch a dedicated single-make championship in the UAE with dedicated racing chassis preparation for the Zarooq Sand racer, maintenance and racing packages e.g. with the participation of Formula One (ex-Winfield) instructors. This exciting championship will harness social networks to attract spectators and dedicated apps to boost competitors.
Zarooq is currently investing in a "Dubai off-road racing circuit", so that the Zarooq drivers can benefit from the best sand facilities in the world to enjoy the performance of their car and deliver spectacular performances for the public during races. "The track will allow UAE residents and companies, as well as foreign visitors, to try the Zarooq Sand racer for themselves. There will be "arrive-and-drive" offers as well as corporate event facilities and we will also be launching an off-road racing school," says Iannis Mardell.
The launch: announcements during 2015 Abu Dhabi F1 Grand Prix
Press Conference: Tues24th November 2.00pm, Sofitel The Palm, Dubai (please contact us for accreditation and location details).
 Zarooq team and partners introduction
 Presentation and Detailed Specifications of the Zarooq Sand Racer
 Introduction of Zarooq brand values, vision and strategy
 Announcement of world premiere car display in the UAE, journalist and customer trials in the desert.
NB: No interview will be given prior to the Press Conference
Delivery & pricing:
Cars can be pre-ordered now and expect first deliveries in early 2016. The first 20 cars will be a Special Inaugural Edition. Price, depending on Model, Edition and Options: $80.000 to 160.000."
[/showhide]