Swiss aftermarket specialist Lumma Design has worked on a Mineral White BMW X6, fitting it with their CLR X6 R widebody kit.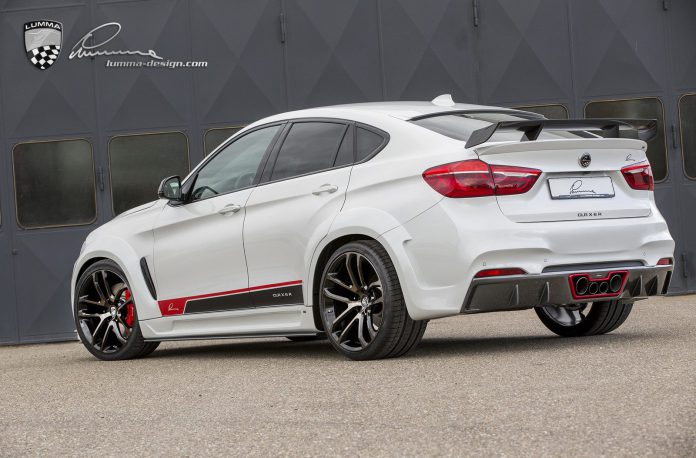 For aerodynamics, Luma has equipped the X6 with a front spoiler, side-skirt splitter, a new engine hood with paintable side air vents, roof spoiler, and a big "GT" rear wing in carbon-fiber. While these changes are sure to improve the performance, they also make the X6 look more menacing. The red detailing goes admirably well with the white exterior paint and black wheels of the car.
Inside, Luma has added a new aluminium pedal set, black floor mats and black boot mat, both with leather mounting.
To enhance the look of the X6, one also finds Lumma daytime running lights and LED fog lights in the black. In addition to that, there's Lumma's emblem at the front and rear and the kidney grille has been covered in carbon-fiber.
Lumma has tinkered with the suspension, wheels and brakes as well. The new suspension gives a lowered stance, while CLR Racing wheels in 22-inch compliment the red brake calipers. Finally, a new stainless steel exhaust has been placed to improve the sound of the X6. It hasn't been mentioned whether the power output of the crossover has been increased.
Meanwhile, as you can see below, we have added a bonus gallery of the X6 in black exterior paint that has got the Lumma's widebody kit too. Which one do you think looks better?