Ken Block has just unveiled his brand new Gymkhana machine tipped to be used in his next YouTube thriller due sometime in 2016.
Block's brand new Gymkhana machine is a 1978 Ford Escort Mk2 RS which he has owned since 2008. As you'd expect, it has been extensively modified and is unlike any other Ford Escort. It is also unique to Block as it is his first Gymkhana car with rear-wheel drive.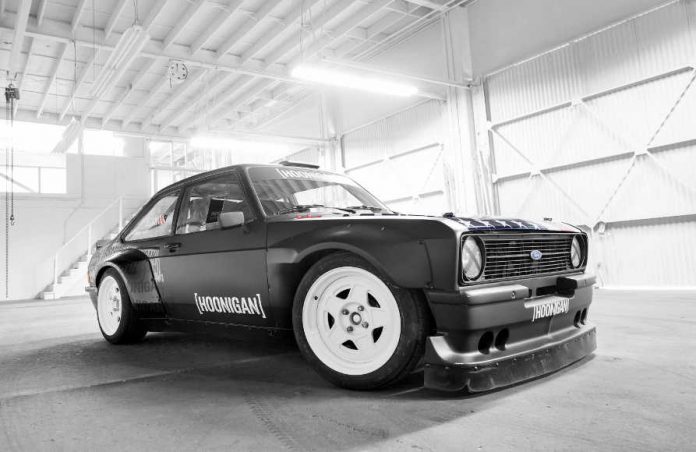 Beneath the Rocket Bunny bodykit and panels, the car is powered by a custom 2.5-litre naturally-aspirated four-cylinder engine delivering a total of 333 hp and revving all the way to 9000 rpm. Coupled to the engine is a six-speed sequential transmission.
As mentioned, the car has been adorned with a bodykit from Japanese marque Rocket Bunny and is the only Escort of its kind. Inspiration for its bodykit comes from Block's former Hoonicorn RTR Ford Mustang as well as numerous other cars from Hoonigan Racing and Rocket Bunny. A set of classic two-piece fifteen52 white wheels have also been fitted.
Discussing the car, Block said "This Escort Mk2 is special to me, it's actually my first Ford rally car. I purchased it in 2008. It was designed to compete in tarmac events, but unfortunately those are quite lacking now stateside, so instead of converting it into a gravel machine, I had my team at Hoonigan Racing Division extend on its tarmac capabilities and develop it into the ultimate rear wheel-drive Gymkhana car."