A prototype for the facelifted Bentley Mulsanne has been spied while undergoing testing at the Nurburgring. Adorned with absolutely no camouflage, the test mule highlights just how limited the changes for the updated Mulsanne will be.
The only form of 'camo' adorning this Mulsanne is some light blue tape across the quad headlights to hide some small changes inside the lights themselves. It remains to be seen if any more styling changes are in the works and are not present on this prototype but that's a possibility.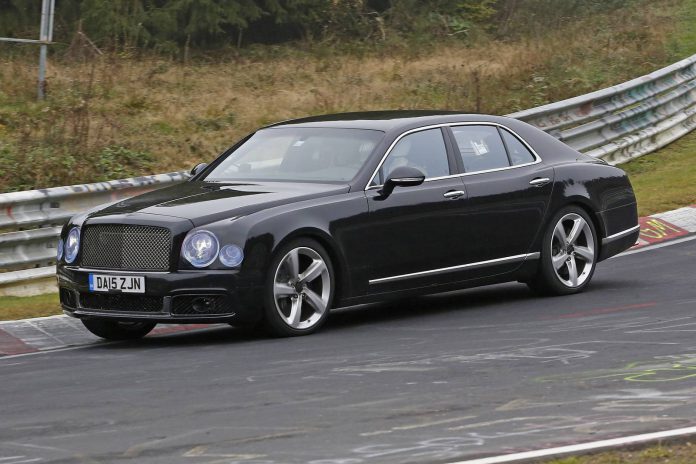 Beyond the subtle visual changes, we know that the facelifted Bentley Mulsanne will bring with it a long wheelbase variant dubbed the Mulsanne LWB. What will distinguish the Bentley Mulsanne LWB is the fact that additional rear passenger legroom will be offered with indications suggesting rear passengers could have between 20 and 25 cm of extra space.
It is suggested that the adoption of a beefier B-pillar will be the only point of visual difference separating the Mulsanne LWB from the standard car (apart from the lengthened wheelbase of course).
Beyond the additional rear legroom, the Bentley Mulsanne LWB is tipped to remain mechanically identical to the typical Mulsanne. That means its 6.75-litre V8 engine should deliver an equal 505 hp and 752 lb-ft of torque. Due to the additional weight of the LWB variant however, the sprint to 100 km/h is expected to be slightly slower than the standard car which can hit the mark in 5.1 seconds.