After releasing a number of teaser images and details of its Lamborghini Huracan aerodynamics package, RevoZport has just unveiled the Razmig Huracan. The package is available for both the Huracan coupe and Huracan Spyder and sees a multitude of modifications.
Arguably of most significance is the active rear diffuser made from lightweight carbon fibre. The rear diffuser operates in similar way to the Ferrari 458 Speciale's and with the simple push of a button, the flaps on the rear diffuser are lowered to help provide additional downforce.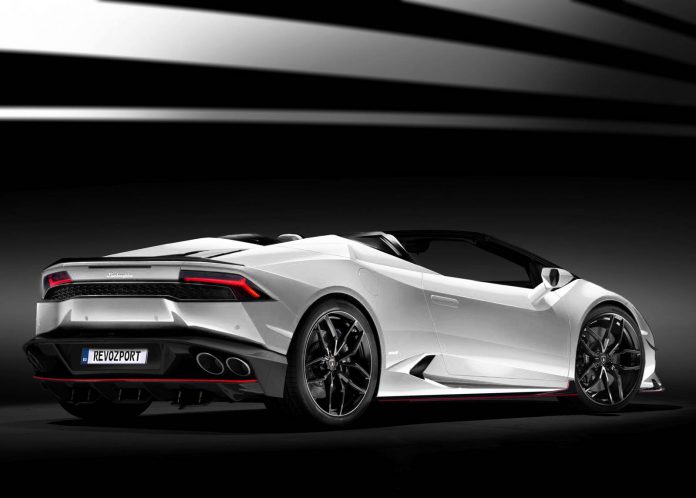 Elsewhere, the RevoZport Ramzig includes a new bonnet, doors, fenders, front splitter, canards, side scoop extensions and a large GT rear wing. All of these components are made from carbon fibre and help save 100 kg of weight from the standard Huracan. For the Lamborghini Huracan Spyder, the tuning company has also implemented strong carbon fibre cross frames within the doors to improve the vehicle's rigidity.
Beyond the aerodynamic changes, the RevoZport Ramzig Huracan includes a tuned ECU, upgraded intake system and a Formula One-grade exhaust made from Inconel and weighing a mere 7 kg. Beyond being lightweight, inconel is six times better at dispelling gases than titanium. These alterations see power increased from 610 hp to a Lamborghini Aventador-equalling 700 hp.
[showhide]
"RevoZport Razmig 700hp Huracan (for LP610-4 & LP610-4 Spyder)
Active Aerodynamics
Succeeding the Gallardo, the Huracan is now under the spotlight among all tuners throughout the world. To differentiate ourselves among all ordinary aero packages being offered in the market, RevoZport decided to be the market leader when designing the Lamborghini Huracan.
Introducing the RevoZport Razmig, which is equipped with the first-in-the-industry carbon fiber rear diffuser with active aerodynamics components. With just a push of a button, the flaps on the rear diffuser will be lowered, which delivers instant extra downforce or better co-efficient drag similar to what you see in the Ferrari F458 Speciale. For rigidity standpoint, RevoZport had done something revolutionary. Carbon fiber cross frame is introduced inside both doors of the LP 610-4 Spyder, which you can image; the design significantly enhances the overall structure.
Other race-inspired components include carbon hood, carbon doors, carbon fenders, front splitter with dive planes, side scoop extensions as well as a carbon GT spoiler, which all contribute to shedding an impressive 100kg.
RevoZport adds an almighty 90hp to the V10 naturally aspirated engine now pushing out 700 horse power or bull power. The Razmig features an upgraded intake system which provides a more smooth and cooler air flow, a tuned ECU and a Formula One-grade Inconel exhaust which only weighs 7 kg but is 6 times more efficient than a titanium exhaust when it comes to getting rid of gases. The Razmig is available to order and parts will be ready within 2 weeks of order.
When developing this project, we strive to achieve 100% accurate manufacturing. A completely new yet rarely being used production approach called 3D Reverse Engineering method is implemented. A complete vehicle's data is captured by an industrial type 3D Scanner with accuracy down to 0.04mm or 0.0016 inch. Each component is then designed using these data captured and carefully drawn with the CATIA software and simulated by CFD program to make sure all components are manufactured to OEM standard and function as it should be.
RevoZport is probably the world's only tuner to achieve stringent requirement of ISO 9001 accreditation sanctioned by both SGS and TUV SUD with design and production capability."
[/showhide]