The facelifted 2016 Porsche 911 Carrera 4, 4S, Targa 4 and Targa 4S models have just been unveiled before the Los Angeles Auto Show 2015 next month. They follow on from the new 911 Carrera and Carrera S models which were revealed at Frankfurt and join the facelifted 991.2 range of models.
As with the facelifted Carrera and Carrera S models, the new 4 and 4S models received a number of visual modifications. Some of the most eye-catching new design elements previously seen include the refreshed headlights and the taillights which take heavy inspiration from the Porsche Macan. New front and rear bumpers are also included.
Distinct to the 2016 Porsche 911 Carrera 4 and 4S models and the new front air intakes which as expected, feature active air ducts that can open and close and channel air into the front-mounted radiators. At the rear are new air outlets funnelling hot air out from the rear of the German sports car.
As with the lesser Carrera models, the 2016 model year Carrera 4 and 4S utilise a brand new twin-turbocharged 3.0-litre horizontally opposed six-cylinder engine. In the 2016 Carrera 4 and Targa 4 models, that engine pumps out a total of 365 hp at 6500 rpm and 332 lb-ft of torque between 1700 and 5000 rpm, representing a 20 hp and 45 lb-ft gain over the outgoing naturally-aspirated models. As for the new Carrera 4S and Targa 4S models, its engine has been tweaked and pumps out 414 hp and 369 lb-ft of torque.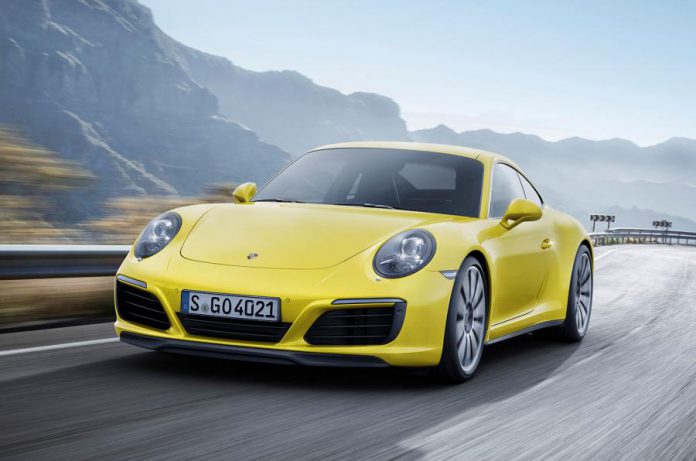 As with the outgoing models, the new 911 Carrera 4 and Targa 4 models are offered with both a seven-speed manual transmission and a seven-speed PDK dual clutch 'box. As the names of the cars imply, they all utilise all-wheel drive.
Thanks to the engine changes, the Carrera 4 and 4S coupe models will reach 100 km/h in 4.1 seconds and 3.8 seconds respectively with the Carrera 4S coupe capable of now hitting 305 km/h. Alongside the boost in power and performance, the new models are 12 per cent more fuel efficient.
Other upgrades include the implementation of the Porsche Active Suspension Management system as standard. The Carrera 4S is also now available with a four-wheel steer system.