Not only is the Aston Martin Vulcan the most hardcore vehicle ever produced by the British marque but it also takes its name from the Arvo Vulcan jet bomber from the 1950s. Recently, Aston Martin brought together the Vulcan with its historic namesake for a very special get-together.
This particular Vulcan XH558, is set to return from active service next month and will be put on display at the Vulcan Aviation Academy & Heritage Centre at Robin Hood Airport near Doncaster in the UK. The famed bomber participated in a special fly-past at Elvington Airfield in Yorkshire with the Aston Martin Vulcan posing on the runway making for a very special photo opportunity.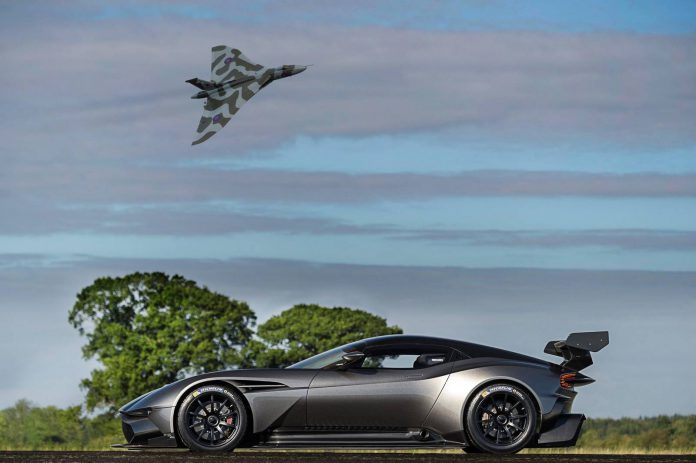 Discussing the photo-op, Aston Martin chief executive Andy Palmer said "Clearly the Avro Vulcan provided the inspiration for the naming of our most extreme sports car, and I'm delighted that we have been able to unite the 'two Vulcans' and deliver our own tribute to this world-renowned aeronautical phenomenon."
Chief pilot and operations director of Vulcan XH558 Martin Withers said "Being at the controls for this unique fly-past was a memorable occasion. Personally, it is great to know that the Vulcan name will live on not only in the history books, and at the new educational centre in Yorkshire, but via Aston Martin's incredible new sports car."
Powering the Aston Martin Vulcan is an entirely new engine which holds the accolade as the world's most powerful naturally aspirated production engine. It has been developed by Aston Martin Racing and is a V12 displacing 7.0-litres and delivering over 800 hp.