With customer deliveries of the Lamborghini Aventador LP750-4 SV recently kicking off around the world, we've already had the opportunity to see some pretty special examples. The following recently snapped by MP Carphotography could well be the most impressive we've seen to date.
This particular Aventador SV has been finished in a stunning shade of baby blue dubbed Blu Glauco by the Italian automaker. It is a colour very, very rarely seen on Lamborghinis but despite that, its delicate nature complements the aggressive styling of the Aventador SV quite well.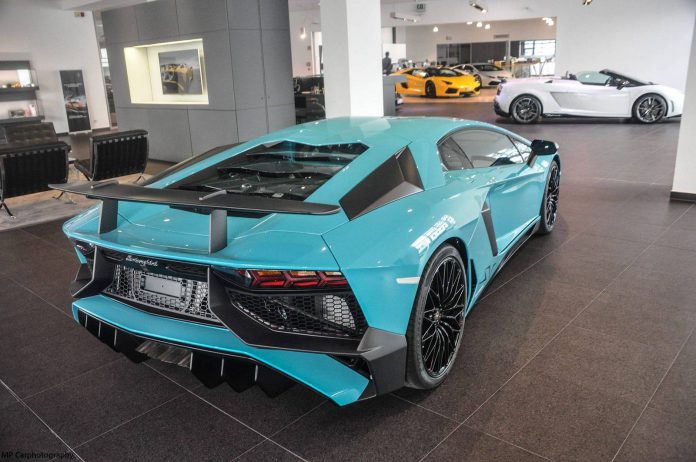 As with all other Aventador Svs we've seen so far, it has also been adorned with a number of matte carbon fibre elements. They include the rear wing, rear diffuser, elements of the rear fascia, rear decklid air intakes, side skirts, side air intakes, wing mirrors and much of the front bumper and splitter package. The owner has also opted for the smaller of the two 'SV' stickers available.
Powering the Aventador SV is the 6.5-litre V12 engine powering the standard Aventador. However, it receives a modest power boost of 50 hp alongside a weight reduction of 50 kg. Thanks to these changes, the 0-100 km/h sprint drops from 2.9 seconds to 2.8 while the top speed sits at 350 km/h. Torque remains at 507 lb-ft at 5,500 rpm and peak rpm rises to 8,500 rpm.