A week after leaking online, the 2016 BMW X4 M40i has just been officially revealed by the German marque. Acting as the range-topping X4 model, the M40i utilises a brand new engine which is expected to power the BMW M2.
That engine is an improved variant of the 3.0-litre turbocharged inline-six powering BMW's xDrive35i models. Thanks to modifications employed by the company however, power has been lifted and now sits at an impressive 355 hp between 5800 and 6000 rpm as well as 465 Nm of torque. Compared to the BMW X4 xDrive35i, those new figures represent a 54 hp and 65 Nm gain.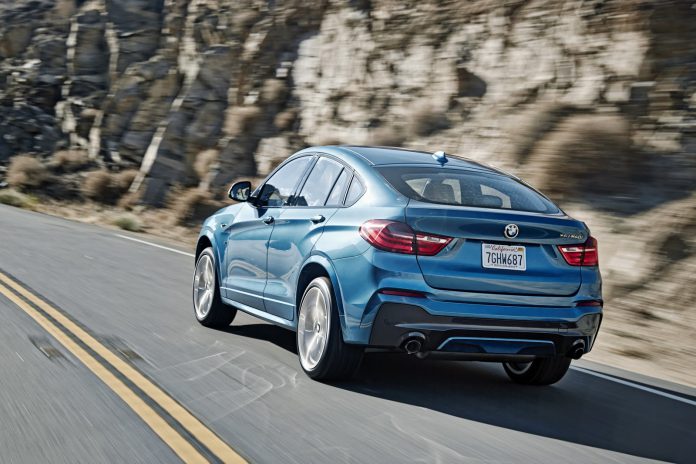 Helping to achieve these figures are revised pistons with a re-engineered top rings, a forged steel crankshaft, high performance spark plugs, custom crankshaft bearings, an increase in the fuel injection, a separate oil cooler and an increase in boost pressure for the turbocharger. Other modifications include a new exhaust and revised air intake manifold.
Mated to this engine is an eight-speed automatic transmission complete with steering wheel mounted paddle shifters. The gearbox has been modified to provide sportier shifts than before and also incorporates launch control. Thanks to all these revisions, the BMW X4 M40i will hit 96 km/h in just 4.7 seconds and a 250 km/h electronically limited top speed.
Visually, the X4 M40i comes complete with the company's M Sport package as well as a set of 19-inch alloy wheels with either all-season run flat tyres measuring 245/45 or performance tyres that are 245/45 at the front and 275/40 at the rear. Larger 20-inch wheels are also offered with Michelin Pilot Super Sport tyres.
Further distinguishing the BMW X4 M40i from other X4 models are the new springs and stabilisers, adaptive dampers, variable sports steering and increased camber for the front axle.