German tuning company Wimmer Rennsporttechnik, better known as Wimmer RS, has just unveiled its performance modifications for the range-topping Mercedes-AMG C63 S. Already one of the most potent sedan and estate cars on the market, Wimmer's upgrades provide the car with even more potency.
Typically, the 4.0-litre twin-turbocharged V8 engine of the C63 S pumps out 510 hp. However, Wimmer RS has optimised the engine's ECU while also installing a handmade stainless steel exhaust system, which can be optioned with or without electronic valve control. All told, the modifications see power rise by 130 hp to 640 hp.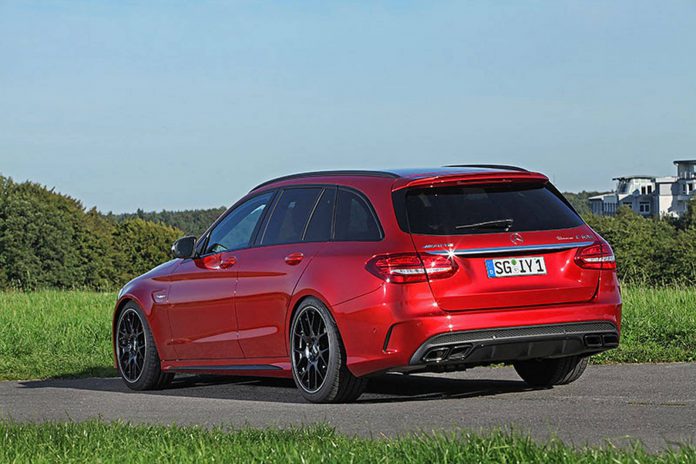 Beyond the engine and exhaust modifications, Wimmer searched long and hard for the right set of wheels for the car. Ultimately, they opted for the BBS type CH wheels measuring 19×8.5 at the front and 19×9.5 at the rear. The wheels feature an eye-catching matte black finish with a silver outer rim and have been wrapped in sticky performance tyres.
Completing the modifications are KW adjustable coilovers.
[showhide]
"Recent AMG C 63 S optimized by WIMMER RENNSPORTTECHNIK
The area of electronic and mechanical power upgrading – which means in clear chip tuning, engine and exhaust system conversions – is field of activities of WIMMER Rennsporttechnik at Solingen since more than 20 years. Under most recent conditions and corresponding to the MOT certification demands, the team around managing director Thorsten WIMMER works in a 2.400 m² workshop, if it matters to make works on engine aeration, exhaust systems, chassis techniques, sports clutches, braking systems or car accessories.
The object of experience is in this case – a red painted and already best equipped by AMG C-class model named C 63 S with serial power of 510 HP (=375 kW).
For software optimization, the power uprating data are being worked out at WIMMER's individually, matching to the serial data and the existing control unit. This way, it is possible to profit from the "secret reserves", that are inside every engine ex works, without any trouble, so that the engine will not be subjected to any unnecessary strains.
The next point of attack is the road admitted sports exhaust system. Handmade dynamic pressure optimized stainless steel exhaust systems with pre-silencer and axle back exhaust with friendly-sonorous and sportive sound are brand independent specialty of the Solingen enterprise. These are being custom made for every car, optionally with or without sports cat and Y-pipe and electronic valve command. Besides full sportive sound, there is also a power uprating included.
The total power of this modified C-class with sports exhaust and cat, Y-pipe and customized data runs up to 640 HP (= 471 kW). This is a significant considerable uprating by 96 kW or 130 HP, respectively.
The fact that the wheel-tire-combination as link between road and car has the not always simple task to transmit the concentrated car power onto the road, if possible without losses, is not seldom underestimated. In the present case, the WIMMER team resolves this kind of task by means of BBS type CH rims dimensioned 8.5 x 19 inches on the front axle and in 9.5 x 19 inches on the rear axle. As tiring, suitable sport tires were chosen. In this context might be mentioned the developed by KW coilovers, permitting speedily cornering thanks to the perfect road holding.
In order to experience the wild power (in the truest sense of the word) of this upgraded C-class, there is only one solution: Make the optimization and hit the road! For more information concerning this C 63 S and the whole product range of the Solingen Company, please contact directly"
[/showhide]