Kajetan Kajetanowicz claimed victory today at the 2015 FIA ERC Cyprus Rally – one of the hardest rallies on the ERC calendar. Together with his navigator Jarek Baran, the Polish rally driver won 14 out of 16 stages in his Lotos Rally Team Ford Fiesta R5 to extend his lead in the championship.
Bruno Magalhães claimed second place in his Peugeot 208 T16 leading Robert Consani in a Citroen DS3 R5.
Kajetanowicz managed to escape a number of problems that struck most drivers on the gravel and dust doomed event. His only glitch came on SS12 when the Ford Fiesta R5 hit a rock damaging its power steering. Clever Kajetanowicz waited till he got to a straight section before hitting the clutch, turning the engine off and pressing the reset button – the trick worked out after several attempts!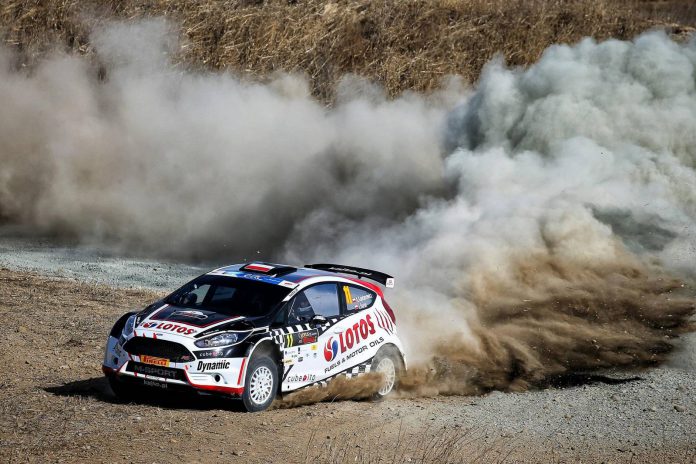 Kajetanowicz also won the 2015 ERC Gravel Master title after his flawless performance, adding it to the 2015 ERC Ice Master title he won in the beginning of the season. Magalhães did not win second place without his fair share of troubles either. His Peugeot had the A/C turned on to help keep the engine temperatures down. This however allowed dust into the cabin which made it nearly impossible to breath and see. Magalhães turned the A/C off eventually thereby solving the problem.
Jaromír Tarabus claimed fourth overall in his Skoda Fabia S2000 leading Alexey Lukyanuk in a Ford Fiesta R5 and two ERC2 drivers Dávid Botka and Christos Demosthenous. That said, Dávid Botka claimed the win in ERC2 category driving a Mitsubishi Lancer Evolution IX, Demosthenous finished second in this class with a similar car to Botka. Third in ERC2 category was Antonín Tlusťák driving a Skoda Fabia S2000.
Kajetanowicz comfortably leads the ERC standings with 198 points ahead of Craig Breen who has 136 points and Alexey Lukyanuk with 119 points. The next round of the FIA ERC championship will be the Acropolis Rally scheduled for October 9.