Outside of a racetrack, one is very unlikely to ever see the brand new 2016 Audi R8 LMS. However, one particularly fine example is currently being displayed at a large Audi showroom (we're not sure where) and looks truly insane.
This particular R8 LMS just so happens to be the one which took victory in the GT3 class at the 24 Hours of Nurburgring back in mid-May. The car is still littered with the dust, dirt and bugs it got during the race making for a very noteworthy attraction at this showroom.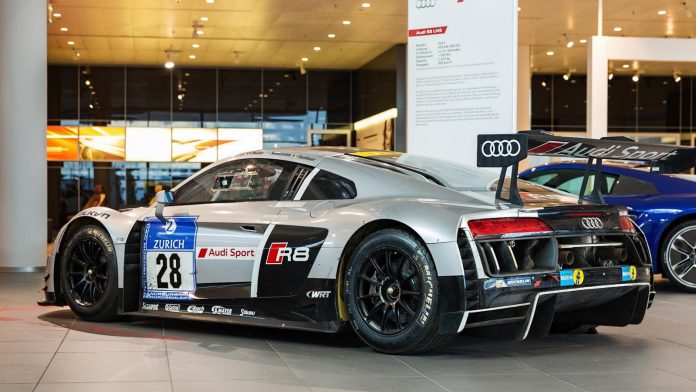 Interestingly, the chassis for the road-going 2016 Audi R8 and the R8 LMS racer are both manufactured at Audi's Bollinger Hofe facility. This is because about 50 per cent of the parts from the road car are identical to the R8 LMS.
Full series production of the Audi R8 LMS commenced on September 21 with the first customer deliveries taking place on October 26. Private racers and race teams can purchase the new R8 LMS for $402,327 or $446,000 if they opt for the more complete package from Audi Sport customer racing.